BBG ST4s Modifications
| | |
| --- | --- |
| | 1st Mod: Sil Exhaust and Ducati Performance Air Filter and Filter Box mod |
| | 2rd Mod: AFAM 42T 525 Rear Sprocket and new 15T Front Sprocket |
| | |
| | |
| | |
| | 6th Mod: Battery Tender Battery Charger with Battery Pigtail |
| | |
| | |
| | |
| | |
| | |
| | |
| | |
| | |
| | |
| | |
| | 17th Mod: Second Cooling Fan and Electrical Bus added, 30A switched power |
| | |
| | |
| | |
| | |
| | |
| | |
| | |
| | |
| | |
| | |
| | |
1st Mod, Sil Exhaust (Carbon Fiber) and Ducati Performance Air Filter and Filter Box Mod
[Drive Systems (US version of AFAM) Part# 50609R]
[Yuasa Part# YT12B-BS]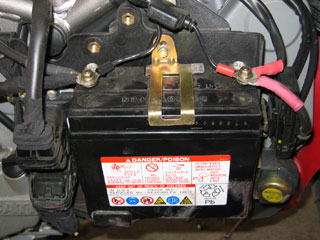 4th Mod, Powerlet Heavy Duty Cable kit
[WKT-001 - Ducati ST2/ST4/ST4S]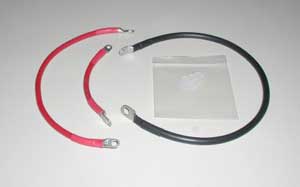 5th Mod, Headlight Manual Control Switch (LED lighted)
6th Mod, Battery Tender Plus 12V 1.5 Amp Battery Charger with Battery Pigtail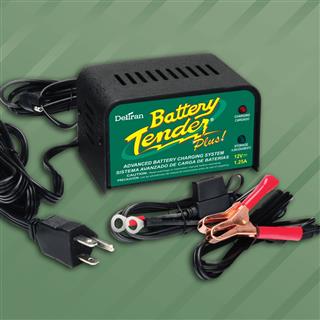 [PN: 021-0128]
7th Mod, K+N Crankcase Breather Filter
[K+N Part Number: 62-1360]
10th Mod: Counter Sprocket Cover

11th Mod: License Plate Relocator
[Evoluzione PN: 90023]
Additional modification by adding Desmo Times short stalks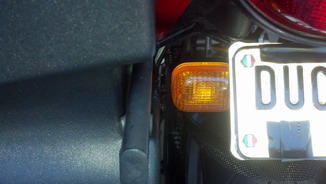 12th Mod: Desmo Times High Velocity Fan - 907ie, All 748-996, ST2/3/4/4S
[Desmo Times High Velocity Fan]
How to Install the manual fan switch - by Vinnie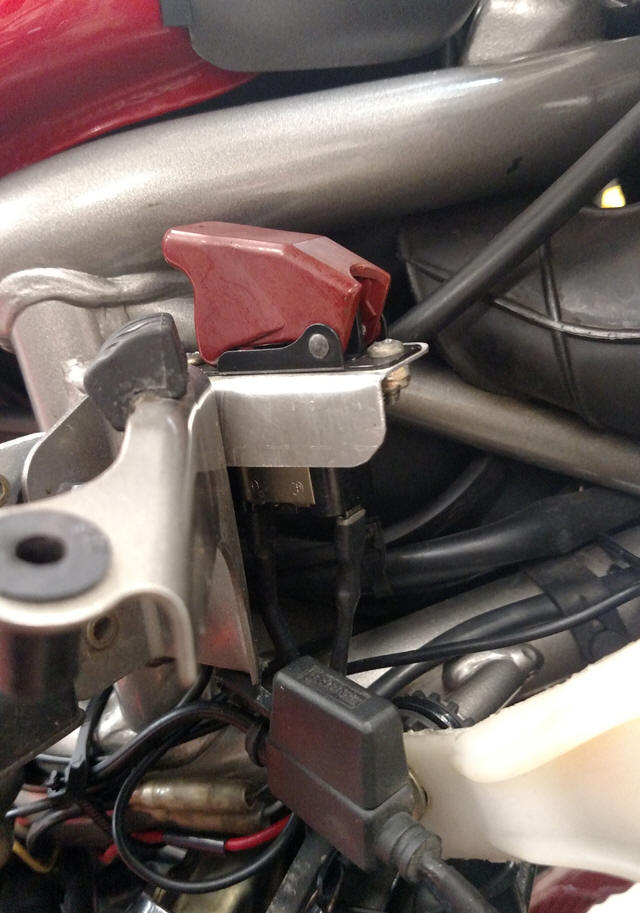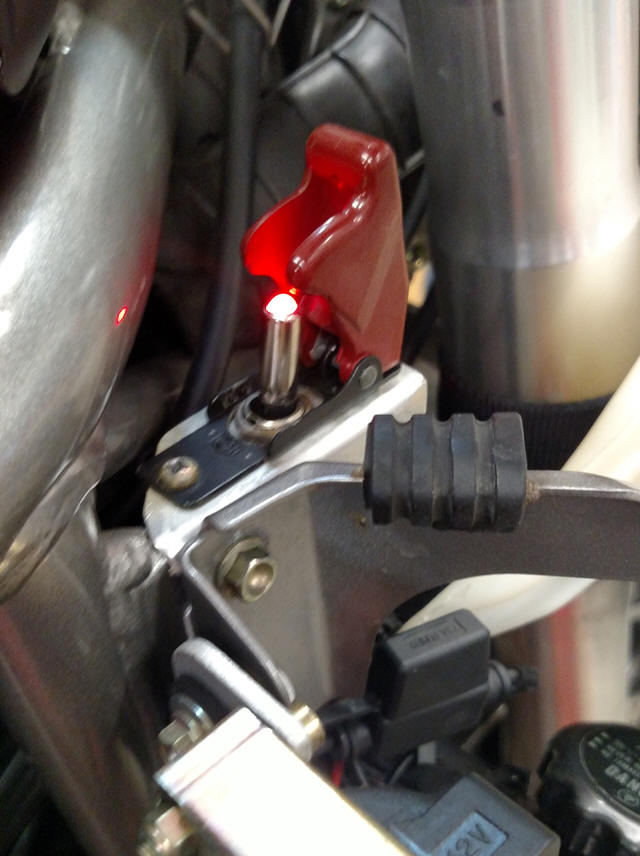 16th Mod: RAM Mount for my phone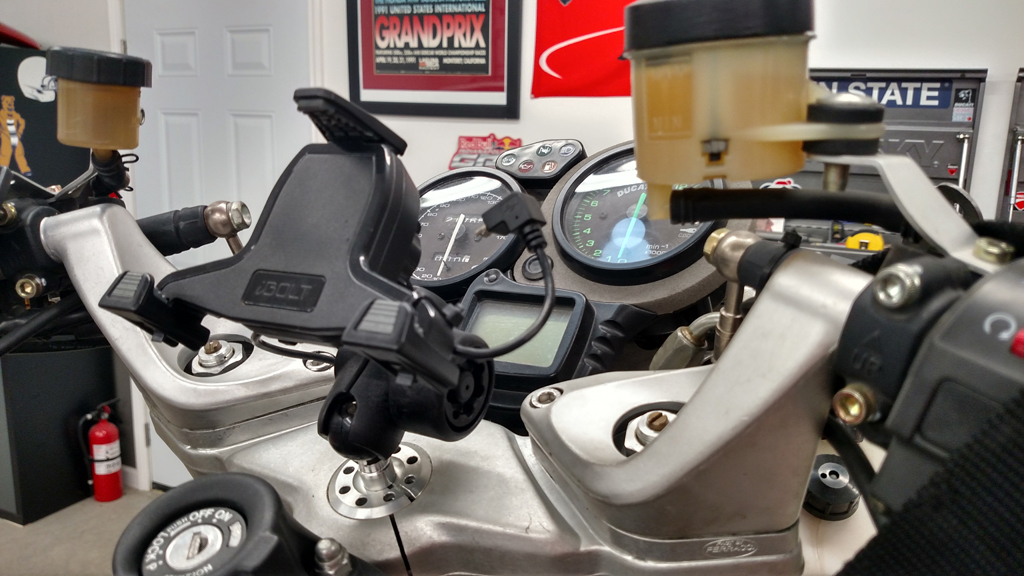 Bore hole in steering stem nut, I used 8mm socket head bolt to bolt the ram mount through the steering stem nut to a washer and lock nut. The hollow triple will let you get a socket with extension on the lock nut. For my 998s FE, I tacked a nut to a washer that I drilled out to match the steering stem nut so that it can be held in place while torque applied to the socket bolt. Works like a champ!!!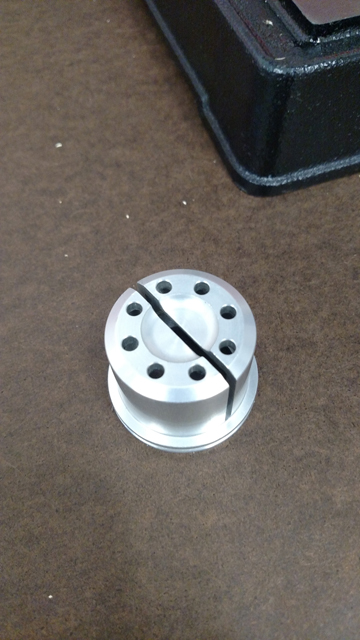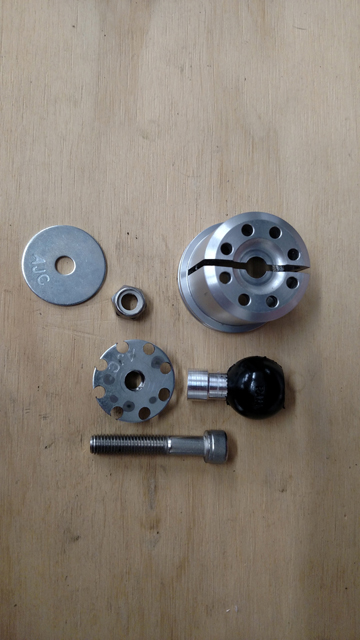 Power is tied in via USB power converter tapped to switched 5A available circuit at fuse panel.
17th Mod: Second Cooling Fan Install - Right Side and Electrical Busbar Installed
Located on right side of radiator, power is controlled by the covered fan switch (Mod 13) and fed through new switched power busbar, 30A relay feeds ignition switched power.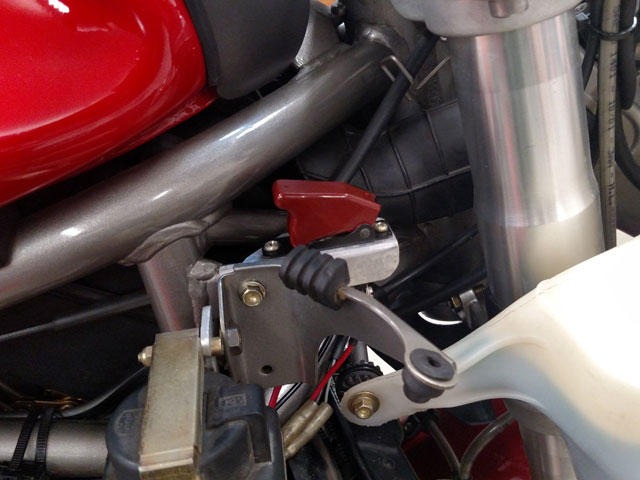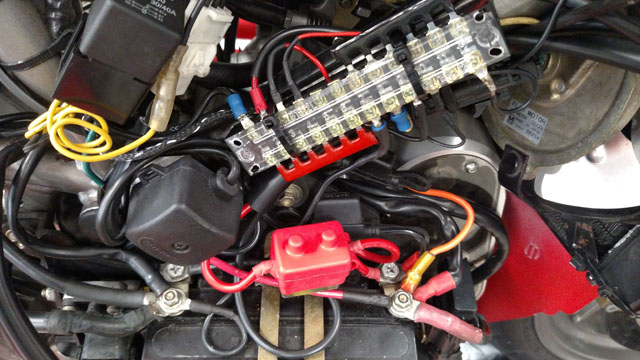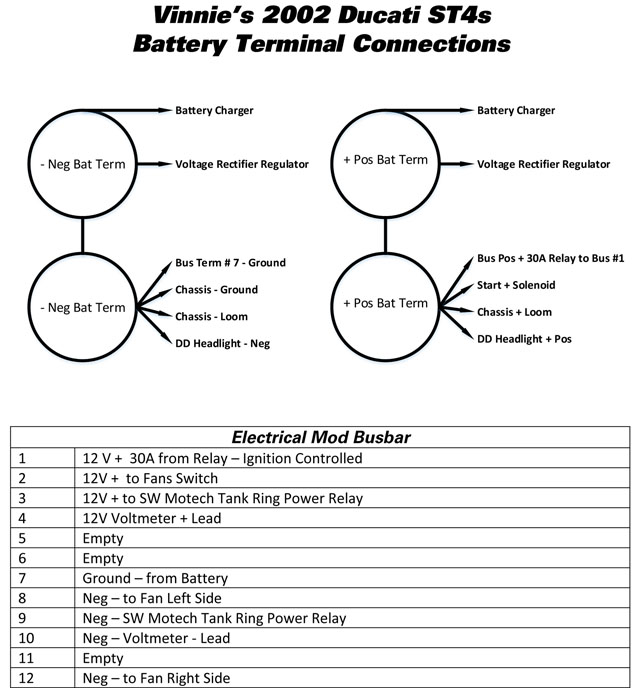 18th Mod: Tapered Bearings Steering Head
All Balls Tapered Bearings installed. As noted By LT of Desmo Times, the seals included in the All Balls kit if not installed according to his instructions, will fail. The reason is that the seals are not designed specifically for this Ducati application and the rubber portion extends inward on radius to interfere with spacer which has an exterior diameter of 48mm. While the inner portion of the rubber on the seal is 46mm in diameter and causes the rubber seal to tear when the steering head is rotated. See the photos below with measurements. My preference was to install the bearings with fresh Ducati OEM seals and spacers. The originals get damaged when removing the lower race from the steering stem.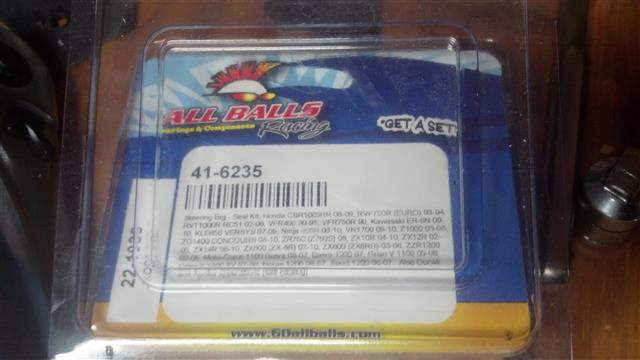 -- All Balls kit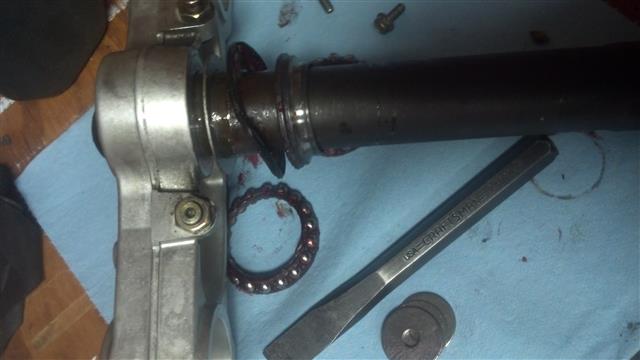 Once the stem is removed, use a cold chisel to slowly free the inner race from the steering stem. You will note the black rubber seal and metal does get bent, sacrifice...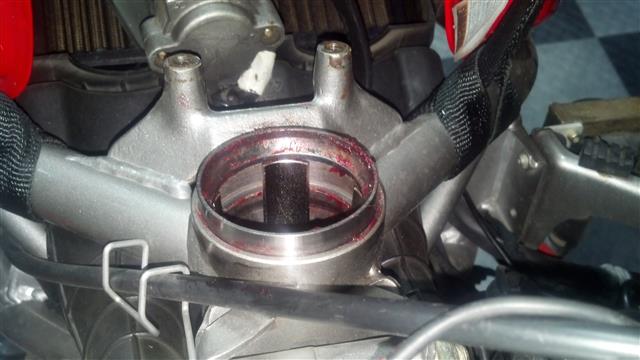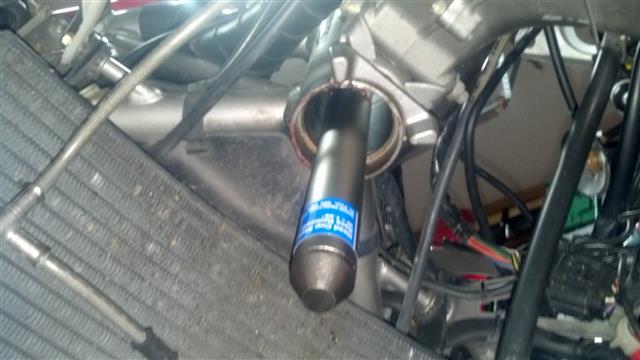 Photos of the tool in action used to remove the outer races from the head stock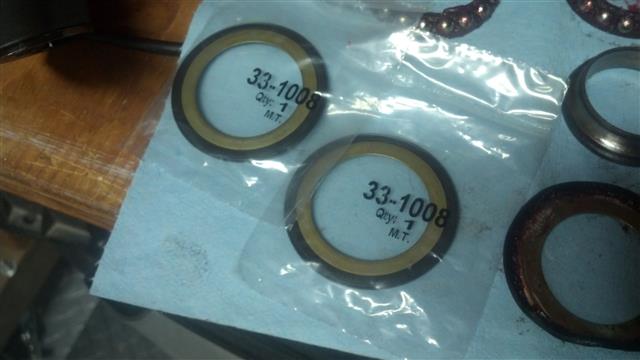 Seals included in the All Balls Kit
(LT of Desmo Times recommends installing the lower one upside down) I recommend not using the included seals but instead buying Ducati OEM seals and using those. Note the differences in measurements below:
Differences in the seals:
All Balls Seal on Left Ducati OEM seal on right
Backside view, All Balls Seal on Left Ducati OEM seal on right
All Balls interior dia
Ducati OEM interior dia
All Balls rubber interior diameter (~46mm)
Ducati OEM rubber interior dia (~51mm)
Spacer exterior diameter is 48mm and interior diameter is 35.2mm

Spacer is wider than the rubber on the All Balls seals so there is interference and it will rip the rubber seal if in contact with the spacer.
A
20th Mod: Voltage Rectifier Regulator
Purchased from http://www.roadstercycle.com/index.htm
It is taller than the OEM, so install it in the intake portion of the nose, I did grind the cooling fins down to about same height as OEM. The fins are aluminum, it didn't seem to mind.
Installed in the intake below headlight, I did enlarge the hole that the cable passes through so that the large connectors will pass through. Also, getting the OEM bolt hole to align was not going to happen. Instead of the bolt, I just used a zip tie to retain it in position.
You can see the bare aluminum in the photo below where I did grind the fins to allow it to fit in the intake, approximate stock position. I took a little over 5mm of material off.
Spliced the yellow wires into the Ducati wire harness, shrink wrapped then covered in 3/8" black PVC sleeve.
I cut back the 4 wire (2 x red and 2x Black) and then terminated with shrink wrap, secured back in OEM PVC sleeve. This is the removed OEM VRR, with ethe connectors, you can see how much wire I cut from the stock loom
Below is the two wire VRR cable, Red with 50A fuse block and and black wire fixed to the Battery terminals.
21st Mod: Voltmeter Lascar-EVM-1200
Lascar-EMV-1200-Powered-Voltmeter (purchased from Amazon)
Installed Oxford Heaterz, heated sports bike grips, electrically connected to ignition switched power at the fuse panel, left of instrument cluster.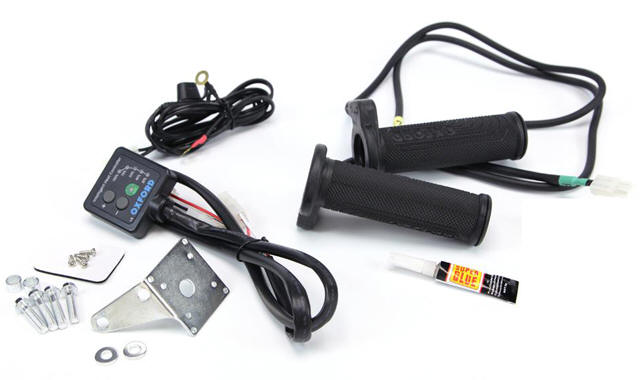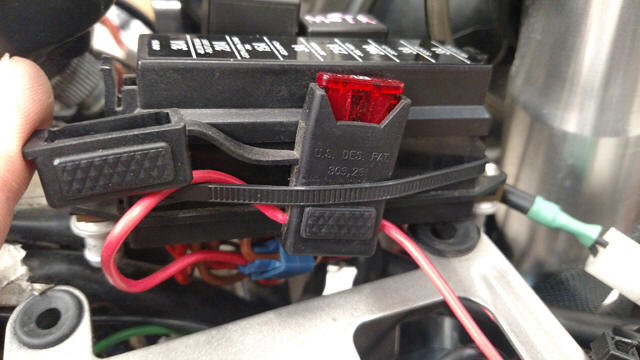 23rd Mod: Vinnie's Ducati Engine Stand
I designed and fabricated this stand to hold Ducati Engines out of the bike. I used 1-1/4" - 1/8" angle and 1/4" thick steel plate. All mild steel A36. All angle joints coped and assembly is MIG welded.
24th Mod: BrakeTech Axis Cobra Stainless Steel full floating front brake rotors
BrakeTech AXIS Cobra Stainless Steel Series: 748-998, 851-888, SS, ST, Sport Classic, Monster (PN: BTD-10.S) with FERODO ST Front Sintered Brake Pads: Brembo Dual Pin (PN: FDB2042ST - X-3)
25th Mod: SB50 Anderson Powerpole 50A Electrical jump plug
Fitted on underside of Battery Tray for jump start capability without removing any body panels
SB50 SB Series 50 Amp Anderson Powerpole Kit (Color: Black, Gauge: 8) SB50-08-BLK
SB50 Environmental Boot with Cover, Source Side 3-6055P2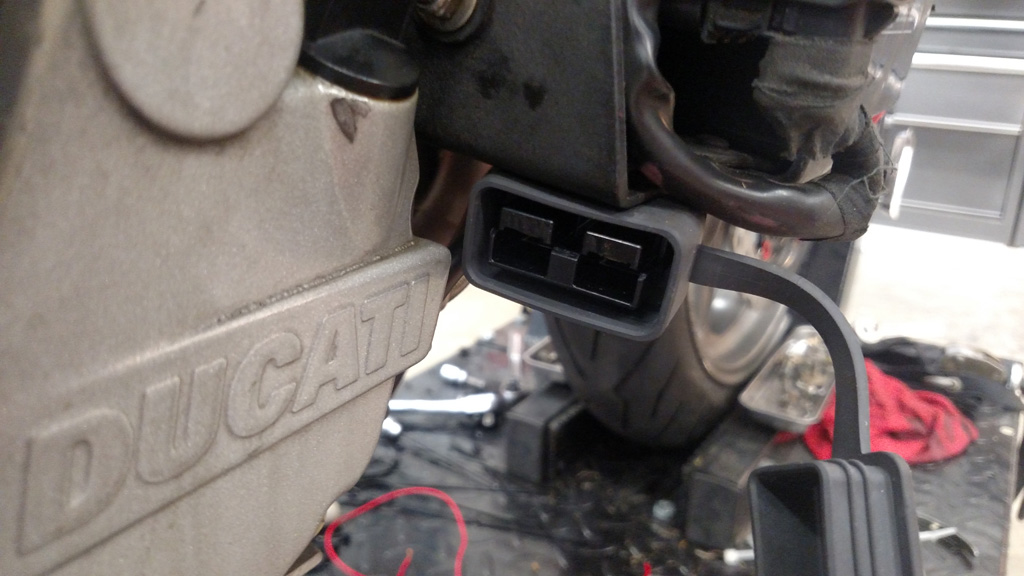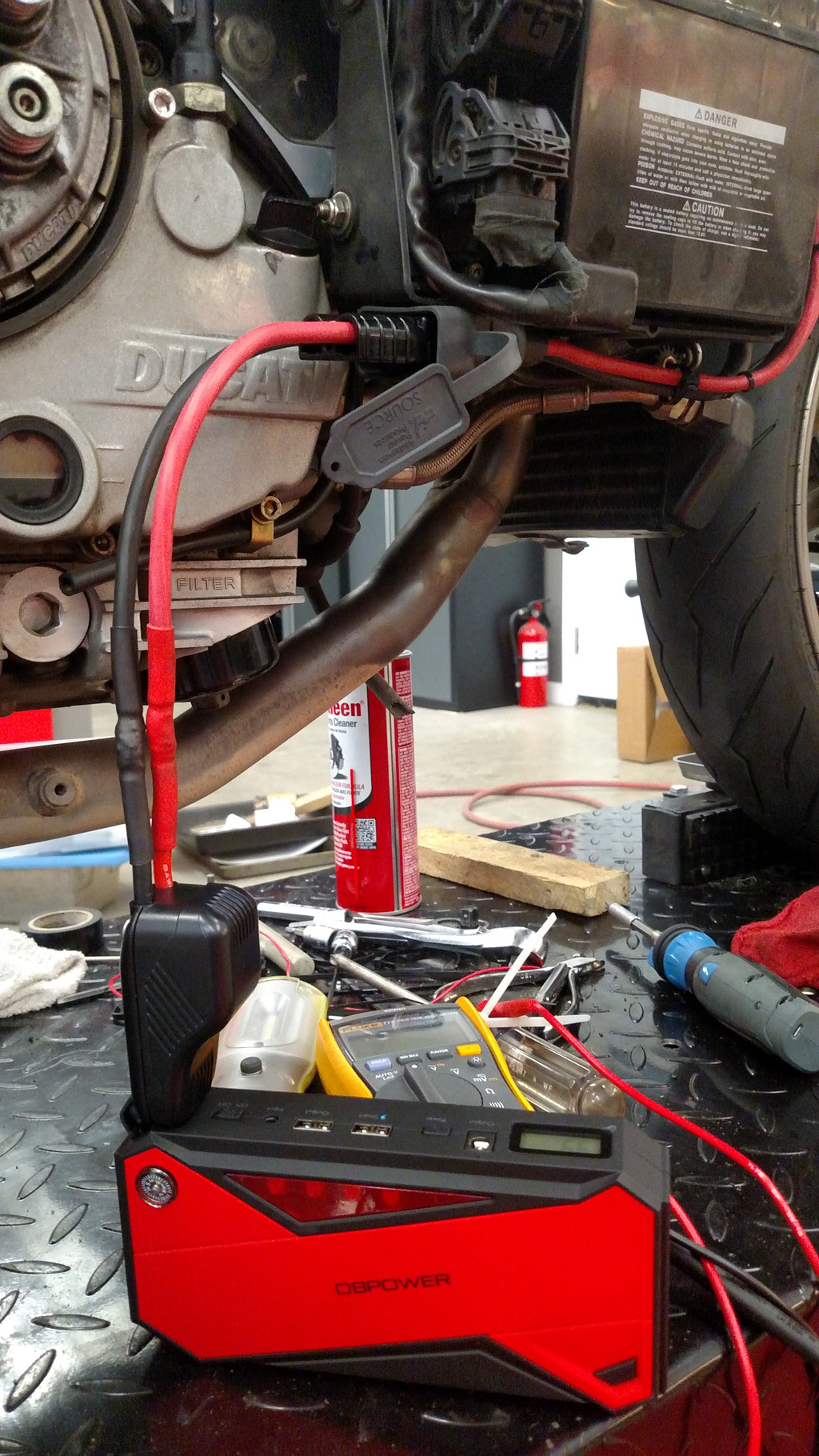 26th Mod: EVR 48T Clutch, Pressure Plate, and Cover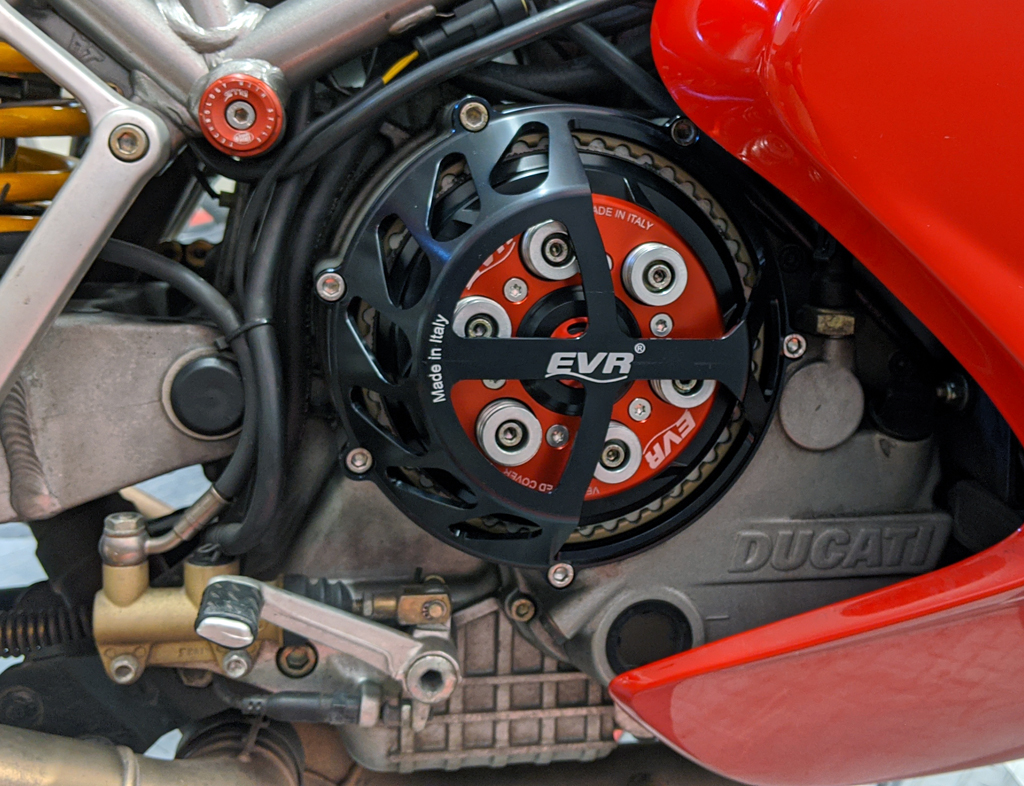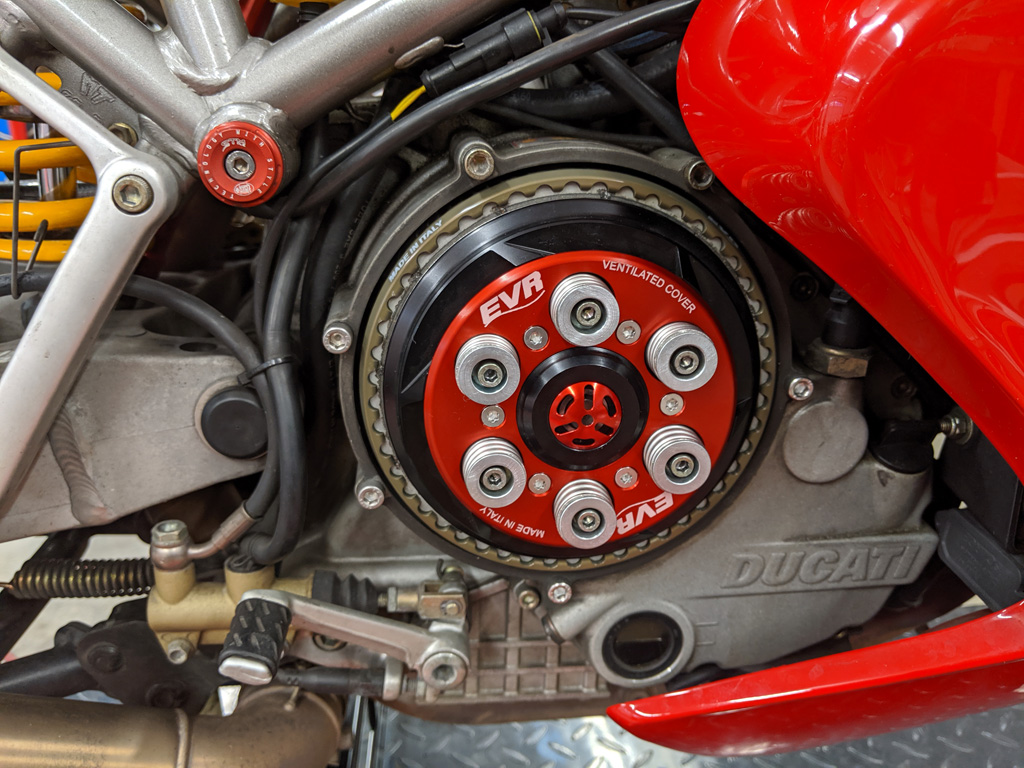 27th Mod: SpeedyMoto Water Pump Housing Cover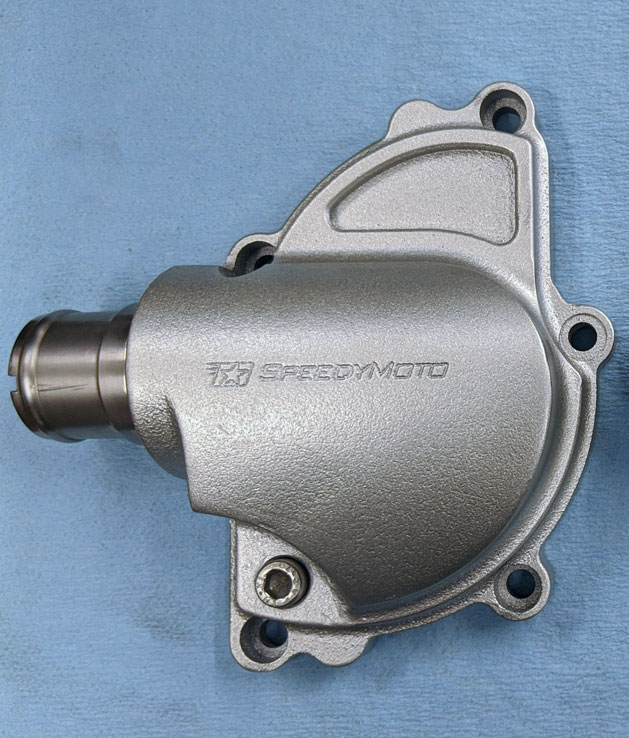 Purchased a used one from Ebay, I cleaned it up, sanded off the abrasions and scratches, painted it with High Temp Engine enamel and baked it on.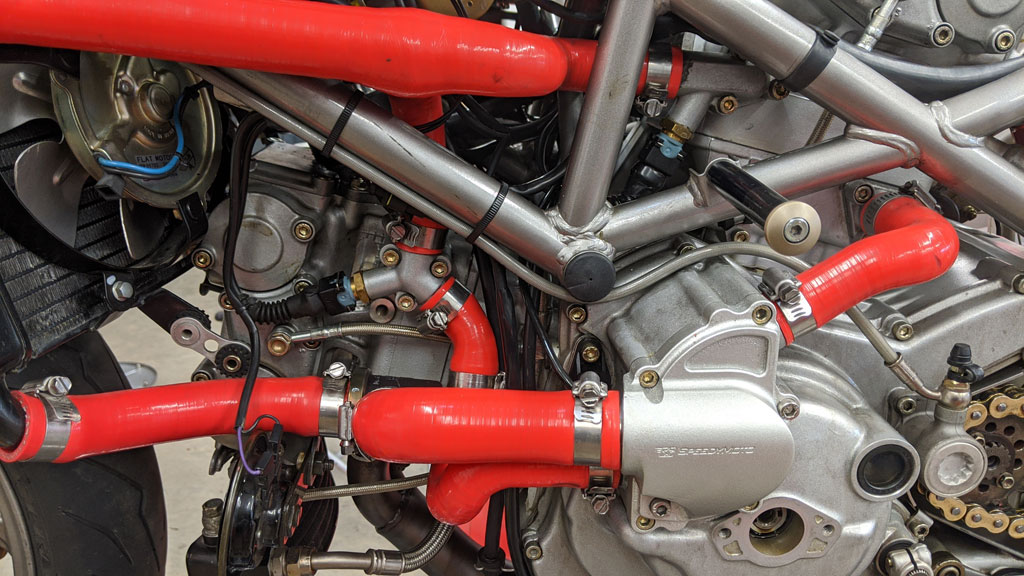 Above: Installed on my ST4s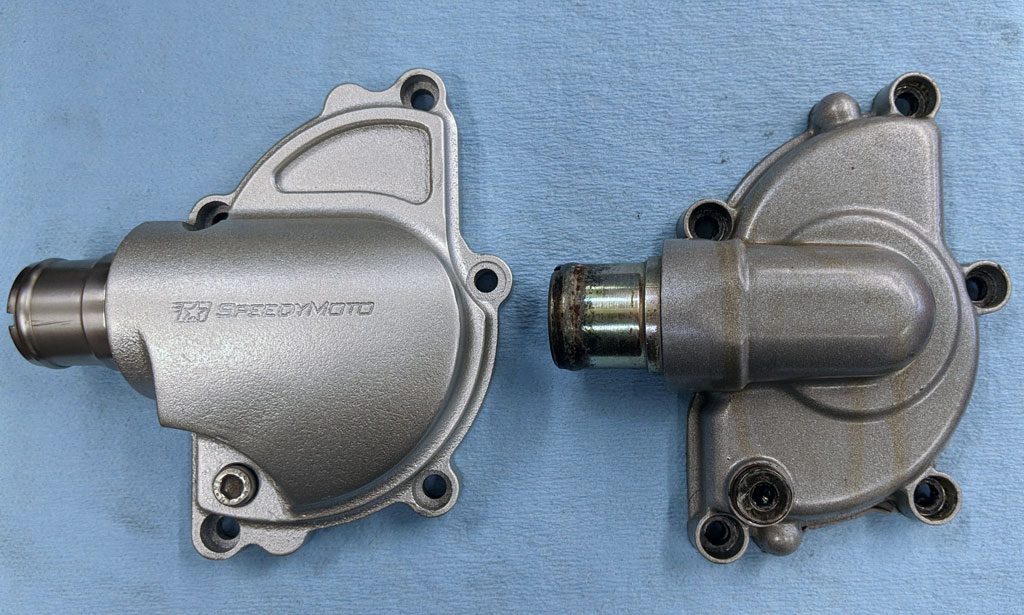 Comparison images of the SpeedMoto cover with the OEM cover above and below: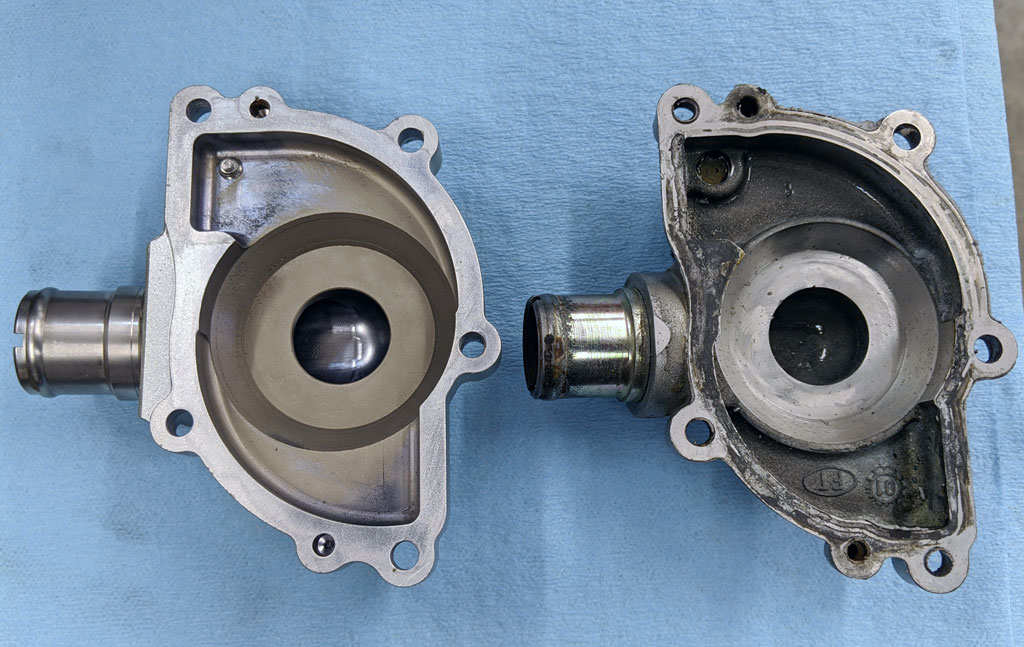 28th Mod: STM Clutch Slave Cylinder