Maintenance and Issues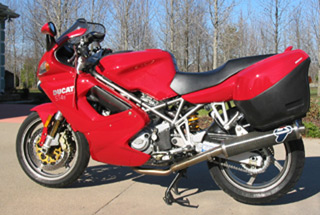 Replaced the Battery and Cables and added Headlight Gizmo (see the Mods page)
| | |
| --- | --- |
| | 2nd Issue... paint peeling and corrosion of the brake reservoir cap |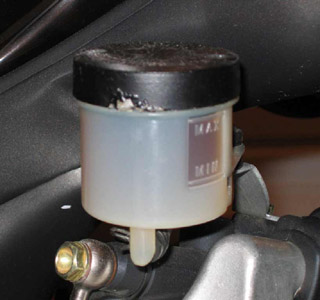 Noticed paint peeling and corrosion of the (aluminum?) cap. I don't park it on the side stand and there is no trace of brake fluid leaking. L 21 Months after purchase... wonder if it is covered by warranty? Well So far, no word on warranty. Ducati Nashville did order and replace the cap. $25 for a new one. The original problem was the rubber seal in the cap had developed a leak (pin hole) and the fluid caused the cap paint to peel and corrode. There was a small amount of brake fluid between the seal and the cap that caused the problem.
| | |
| --- | --- |
| | 3rd Issue... Lower Steering Head bearings corroded and seized: |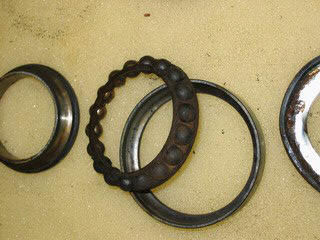 This issue was first called to my attention by Ian of www.st4s.com. He pointed out that several ST4s owners had a similar problem and encourage current ST4s owners to have it checked, especially while under warranty. Very sound advice. I had mine looked at during the 6,000 mi service and look how bad the bearings were. Click on the photo for a more detailed picture, or click here for a very high resolution photo.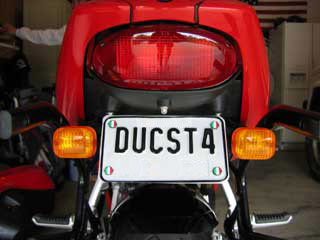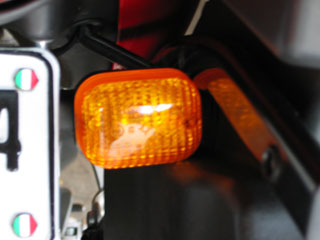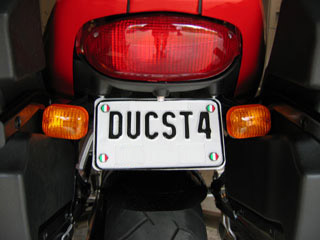 FIX!!!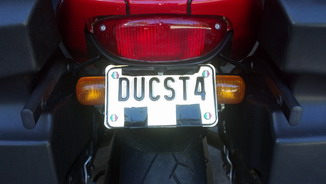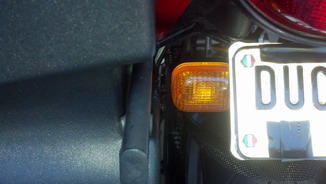 | | |
| --- | --- |
| | 5th Issue... LCD Module display (LCD Panel) partial failure. About a month after a very rainy and wet ride, my LCD display started to fail. It would only display the top half and lower right portion of the display, I could see temperature and time, but only half my tank of gas. This seems to be a common problem or so I have read on some of the forums. I spent the time on a cold Sunday afternoon and removed the LCD module and set about repairing it. This is how I did it: |
Click on any of the photos for higher resolution image
1. Remove the upper fairing to get at the instrument mounting plate.
2. Disconnect the speedometer (odometer) cable.
3. Remove the bolts attaching the instrument mounting plate.
4. Detach the instrument cluster from the mounting plate.
5. Remove the single cap nut from the back of the LCD module and disconnect the two pig-tail electrical connectors. (the connectors will pass through the back of the housing one at a time with care.
6. I placed the LCD module on a towel and removed the three small Phillips head screws.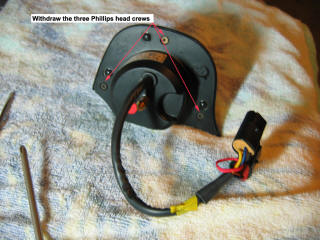 7. Using a sharp sturdy blade, drew along seam at the bottom of the module until cutting the glue bond, then using a small flat tip screwdriver worked the plastic halves apart by slowly and gently first the bottom half then the rest of the module. (you can see I accidentally scored a bit of the plastic)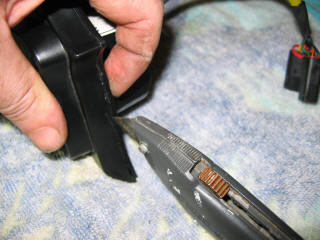 8. Once halves of cover are apart, remove the LCD display and circuit card assembly. My LCD module had a considerable amount of water in it and corrosion on the circuit card. Used a Q-tip with a little contact cleaner to remove the corrosion, then used a dry Q-tip to remove any residue.
9. When I put it together, I used black silicon RTV all around the edges of the two halves and the three screw holes. I also used RTV around the grommet where the electrical pigtail passes, I think that is the culprit that allowed the water into the LCD module in the first place.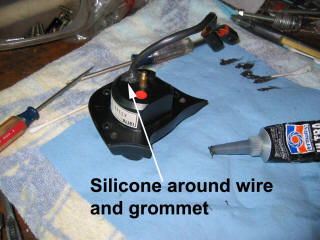 | | |
| --- | --- |
| | 6th Issue... Relay failure of primary relay located next to fuse panel under left side instrument trim. Replaced with Duralast Relay PN# 19283 |
other relays that can be used are: preferred: Siemens V23073 & V23074 and Tyco A1001-A402 & A1001-A403
or:
Bitron B047E 46520411-232006 & 232008
Borg-Warner (BWD) R3223
BMW 61 36 1 393 412 & 61 36 1 393 415
Bosch 0-332-207-307
Ducati 541.4.003.1A & 541.4.010.1A
Ford F57B-14B192-AA
Hella 4RD 931 524-02
Hongfa HFV6 012ZS-TR & 012HS-TR
NAIS ACM13221 & ACM33221
NHG NVFMCZ20 & NVFMCZ25
Omron G8HN-1A2T & G8HN-1C2T
Siemens V23073 & V23074
Song Chuan 871-1C-S-R1-12VDC
Tyco A1001-A402 & A1001-A403
Zettler AZ988-1CT-12DC1R(201)
| | |
| --- | --- |
| | 7th Issue... High coolant/water temperature under normal running conditions. Drained and flushed cooling system (used Liqui-Moly cooling system flush) rinsed and refilled with Engine Ice. Temperature sensors replaced, and replaced radiator pressure cap. ** Note the part number for the pressure cap is incorrectly shown in the Ducati Parts Catalog. Got it straightened out with Ducati North America by working with Ducati, Omaha...they are super. Checked the water pump impeller, all looking good; refitted water pump housing. Straightened radiator cooling fins. Second Cooling Fan Installed - Right Side, manual switch controls both fans. |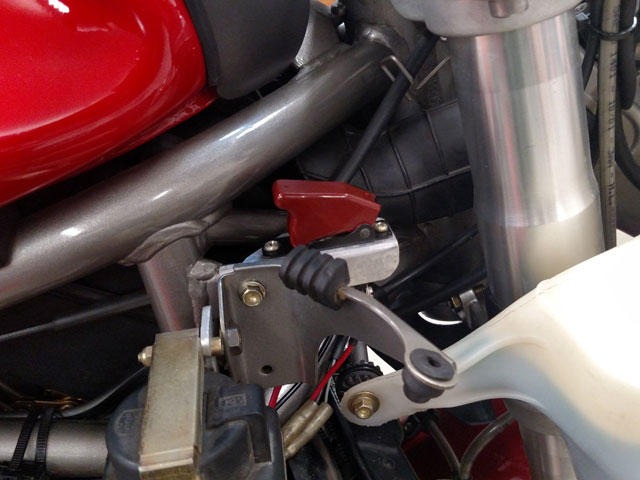 | | |
| --- | --- |
| | 8th Issue... Output Shaft wear in the channel caused by front sprocket retention plate, due to misaligned chain! |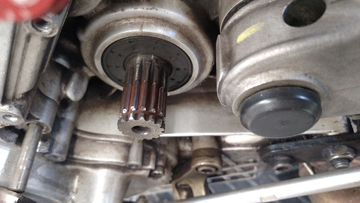 The donor sprocket below and the resulting spacer after machined down: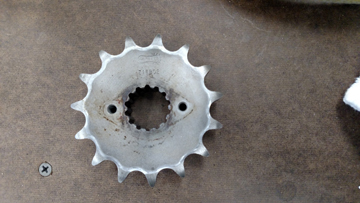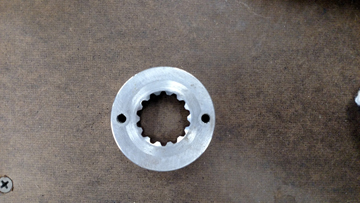 spacer in place: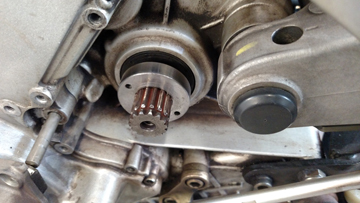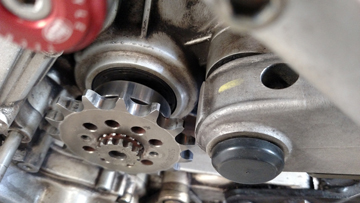 Installed and chain aligned!!! Note the difference in swing arm reference marks with the chain CORRECTLY aligned!!!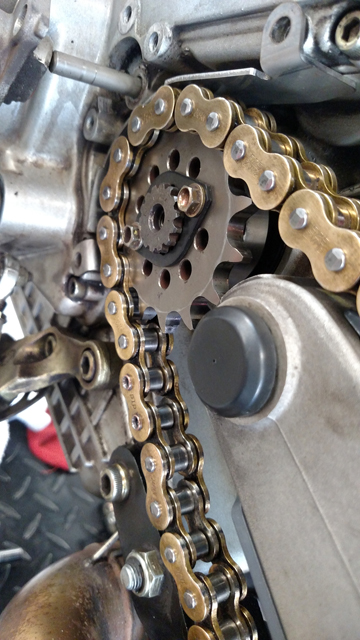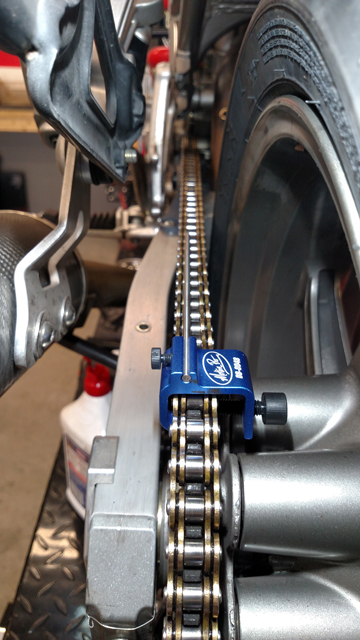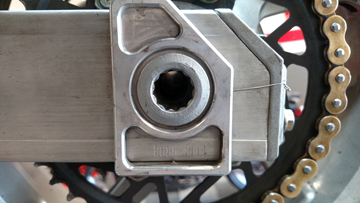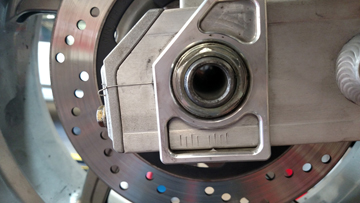 | | |
| --- | --- |
| | 9th Issue... Radiator Pressure Cap part number incorrect in the Ducati Parts Catalogue. Correct PN is:89310031A |
Listed in the ST4s Parts Catalogue as, PN 893.4.006.1A (CATALOGUE No: 915.1.130.1A , ISSUED: 05 - 01) which is NOT the right Part Number for the cap required. Use Ducati Part Number 893.1.003.1A
Common issue noted by many riders not just ST4s, not just Ducati but, this is an issue noted on several Ducati forums (Ducati.ms (https://www.ducati.ms/forums/40-sport-touring/2151-brake-chatter.html) and DucatiSportingClub.com http://www.ducatisportingclub.com/showthread.php?t=25990) So I opted to try the Ducati PN 69922861A - UNION+WASHERS KIT MTS03 Brembo banjo bolt.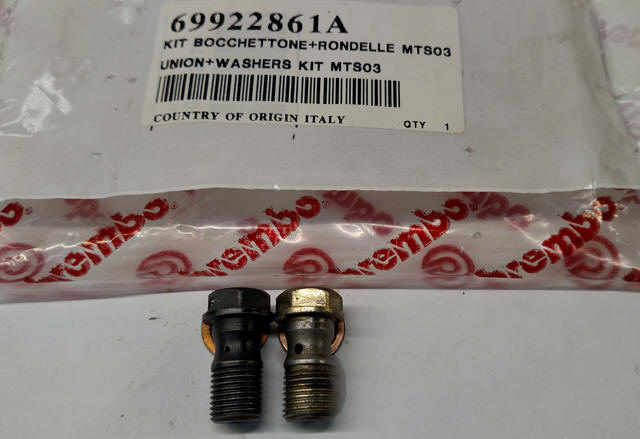 Another common issue noted by many Ducati riders (ST4s) included is the intermittent and eventual failure of the neutral switch aka gear switch, Ducati PN 539.1.021.1A. In the photo below you can see where the plunger that makes contact in the gearbox to complete a path to ground when in neutral is worn down.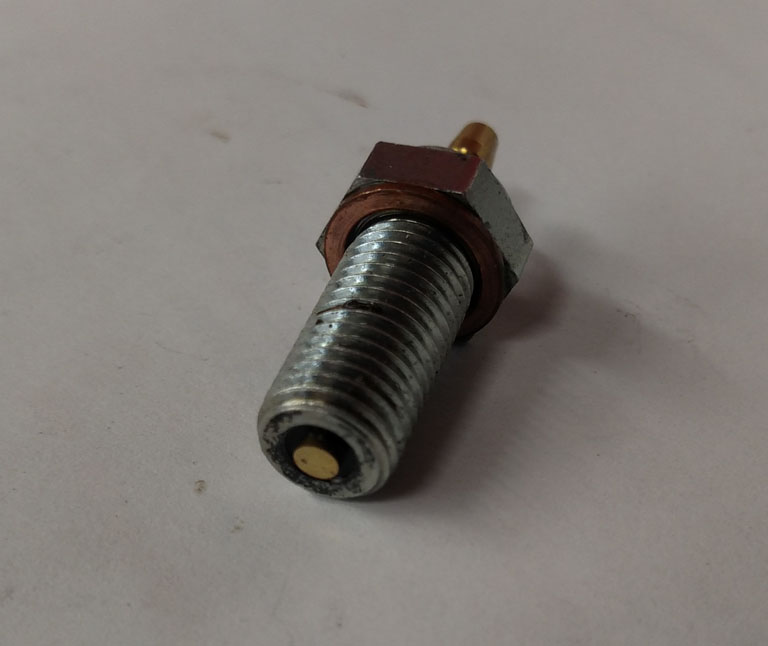 Old switch on left, new one on right.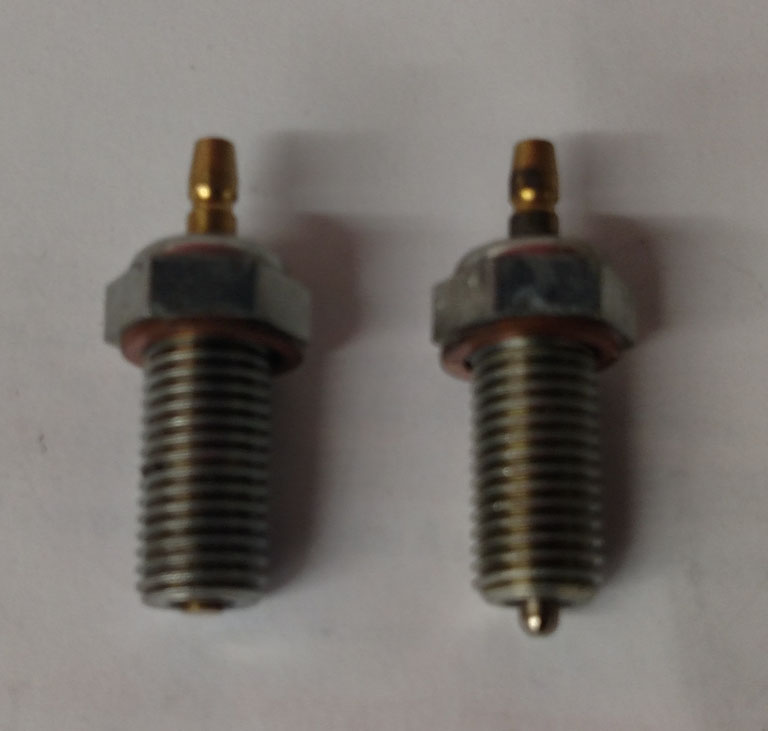 Cut away view of the worn switch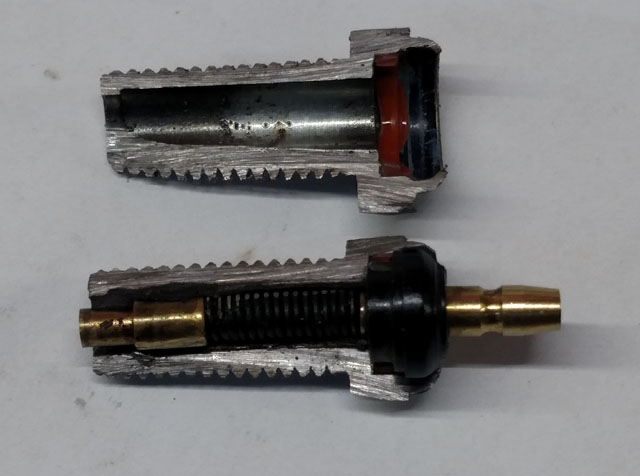 ST4s 2002 USA Parts Diagram: click link for pdf