22-25 May 2023: Seventh annual Moto Trip with Kelly, back over to Tapoco Resort and some great roads in Eastern Tennessee and Western North Carolina. This time Kelly borrowed one of the Ducs, taking the BBG ST4s and I had my Red one. Fantastic weather and minimal traffic owing to weekday trip that preceded the Memorial Day weekend, so I think most travelers were waiting until at least Friday or the weekend proper to get out and about. We enjoyed the ideal weather, great roads, and overall phenomenal conditions. The Red ST4s ran great with the "new" DP performance ECU, it is a little finicky on first start of the day (just like the BBG ST4s) but overall performance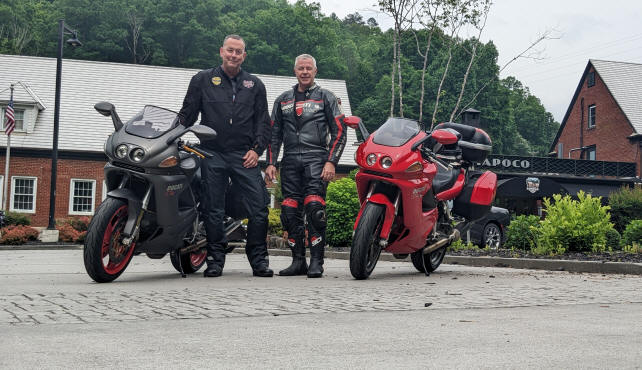 Tapoco Resort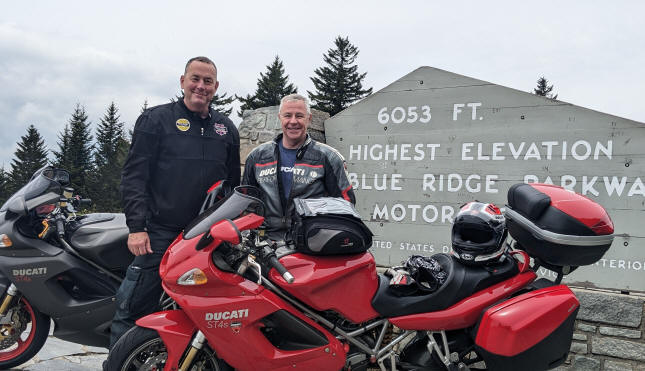 On the Blue Ridge Parkway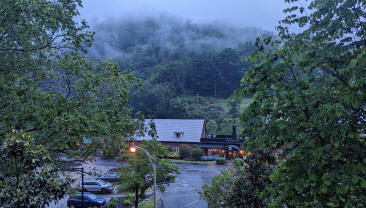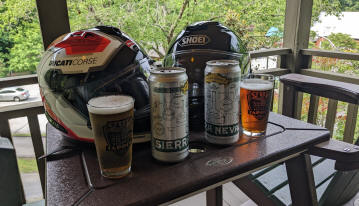 Tapoco Resort and some ice cold Sierra Nevada "Crowlers" fresh from the brewery in Mills River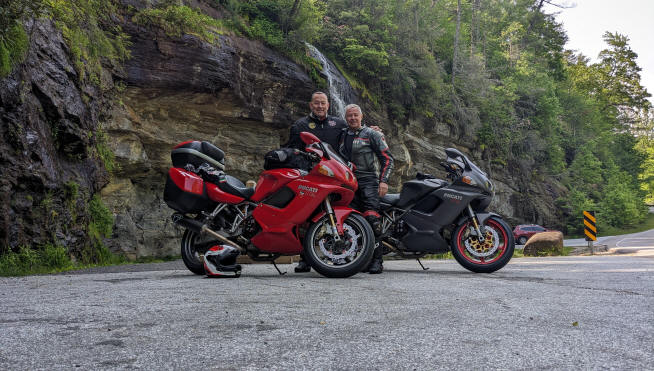 Bridal Veil Falls on HWY 28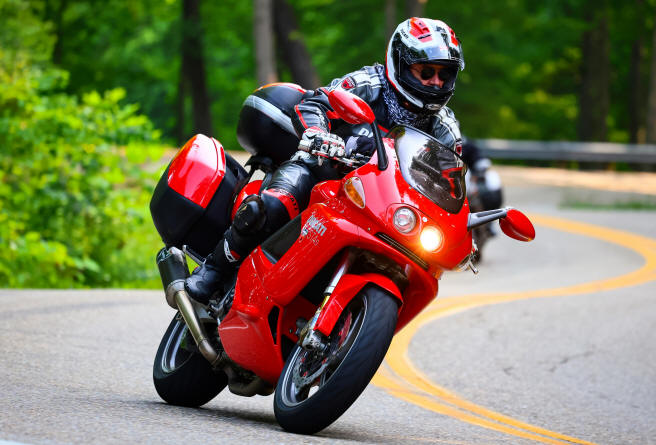 On US Hwy 129, Tennessee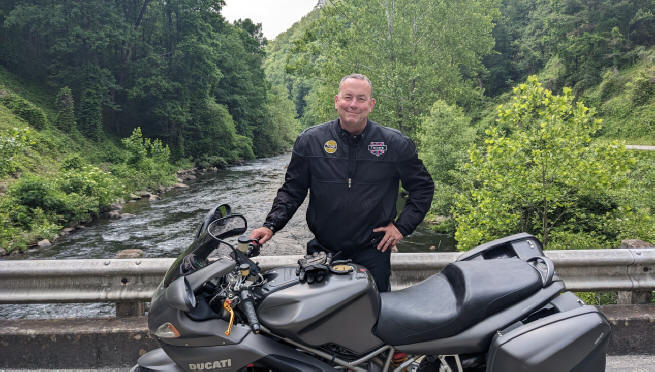 Along US Hwy 129, North Carolina - Bridge over the Cheoah River (one of my and Steve's favorite spots for years!)
24 Feb 2023: Completed valve adjustment, fuel tank inspection, new Gates 27093 submersible fuel line SAE 30R10 , Mahle KL 145 fuel Filter, new ExactFit belts, Yuasa YT12B-BS battery replacement (cascade still pretty good 2 y/o battery to Matrix S2R800), new Pirelli Rosso III front and rear tires, 10w40 Shell Advance synthetic, and Ducati filter. Cleaned and re-oiled K+N engine oil filter. Flushed and filled brake fluid in front and rear brakes and clutch. Cleaned chain, check sprockets and front sprocket retention plate; inspected, all ok.
16 Jan 2023: Installed a new ECU - actually a used MM 5.9 ECU that I re-flashed - with DP fuel map and disabled immobilizer on the Red 2002 ST4s. (DP fuel map bin as pulled from the BBG DP ECU that was married to the BBG dash etc.) TunerPro and IAWDiag, have not reset TPS in the Red '02 ST4s but she fired right up and seems to be in good order (IAWDiag and Techno Research Centurion indications look good). When wx is better will get a functional check flight completed.
17-21 May 2022: Sixth annual Moto Trip with Kelly Hines, this time coincided with Ducati.ms ECM at the Tapoco Lodge on the Cheoah River, just below Deal's Gap. Great weather (on the verge of getting too warm) and great riding. Cheoah (pronounced chee-OH-ah) River is a beautiful white water river that during dam water release presents serious Class V Olympic level rapids. The Tapoco Lodge is a great place in a beautiful setting, I enjoyed the stay there! The roads were great as usual, first time actually riding the Foothills Parkway, its OK not as great as some of the other offerings. The southern end of the Foothills was under construction, but the detour up Happy Valley Road from US HWY 129 along the Little Tennessee River to get to the Foothills Parkway was really fun. Great trip - once again!!!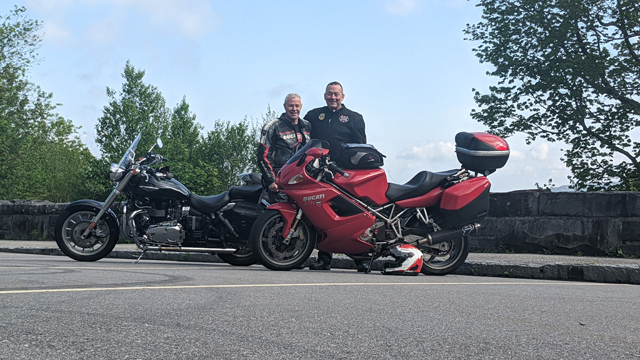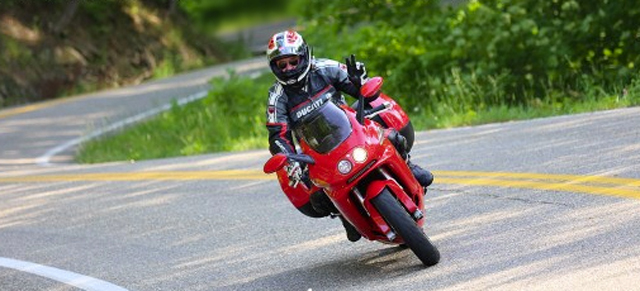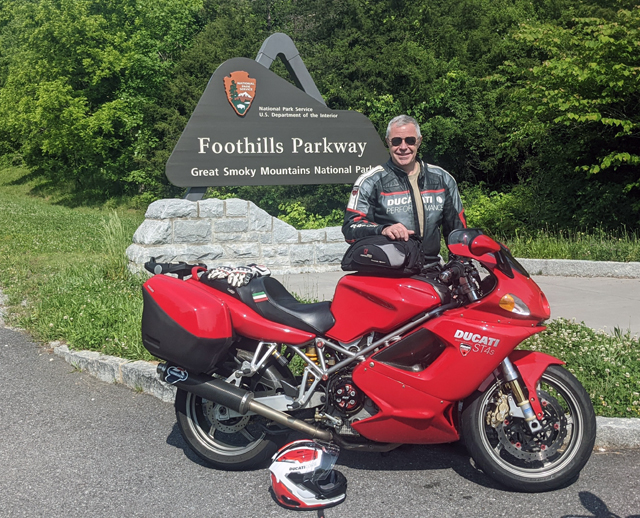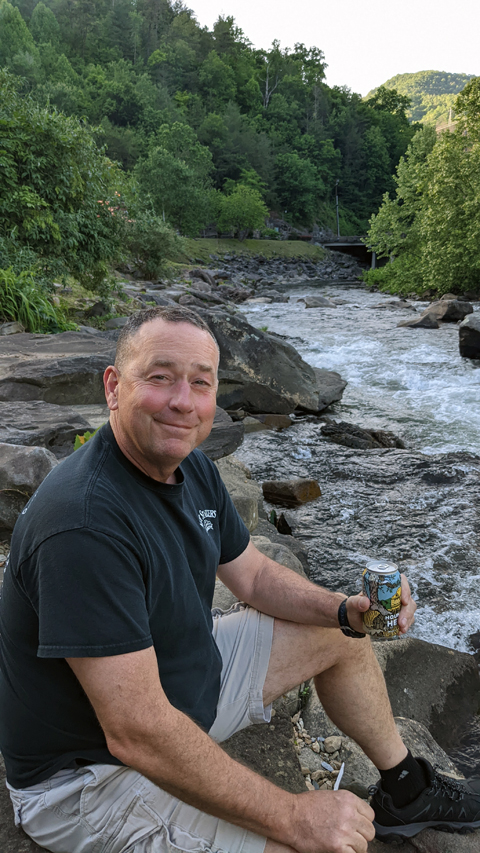 6 August 2021: After 12 years, the trip computer LCD display started to fail again. Much more significant, loosing portions of temperature display, fuel bars, etc. I attempted to clean corrosion again but to no avail. I did notice that water intrusion seems to be occurring through the time set button. I did have some significant weather during the May 2021 ride at ECM and it sat through a big storm while parked at Fontana Dam Resort and even though the bike has been dry since, and garage kept, the display failed and still has some water inside. I opened it up and saw a few little droplets sticking near the time adjust button.
I purchased a replacement via eBay. I did place preemptive RTV around the back grommet where the electrical pigtail passes of the new display. I am thinking through some additional protection around the time adjust button but do not want to have it prevent the use of the button. Tiny little clear silicon around the circumference of the button perhaps, but do not want the button to stick.

9 - 11 May 2021: Steve and I rode the ST4s'es on the BRP and hit the ECM XI (do over, aka "Take Two") at Fontana Resort, NC. Weather forecast was marginal but we had a great time and encountered minimal rain, and enjoyed great riding. We trailer-ed over to Lenoir City then got underway. Hit a few places for some photos including stops we hadn't seen in years.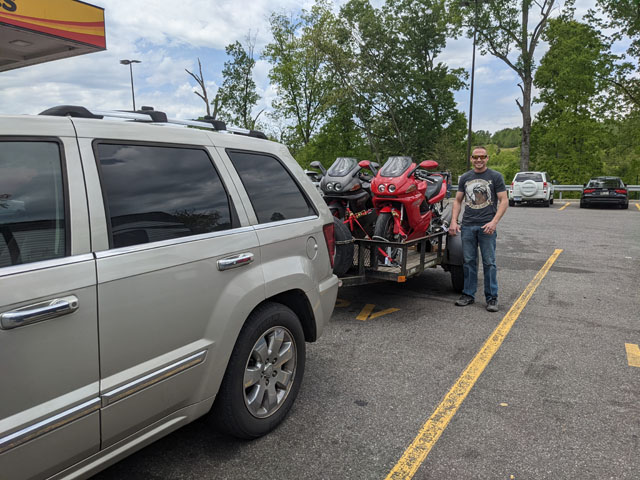 Arrival in Lenoir City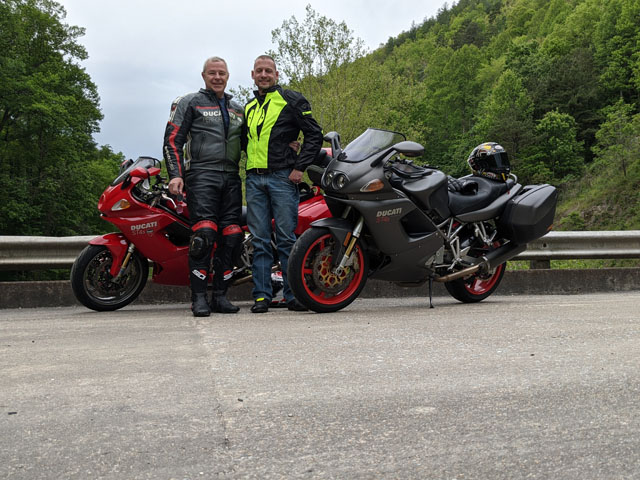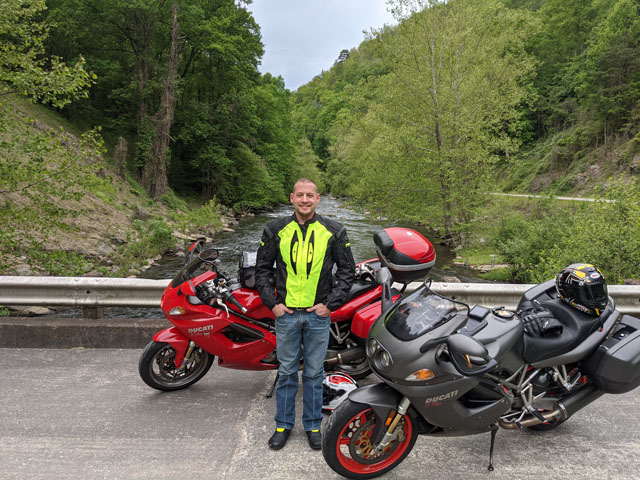 Along Tapoco Road, Cheoah River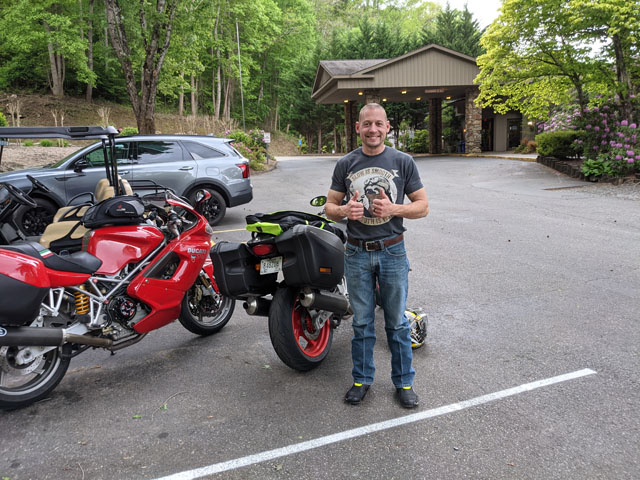 ECM XI (b) - Fontana Resort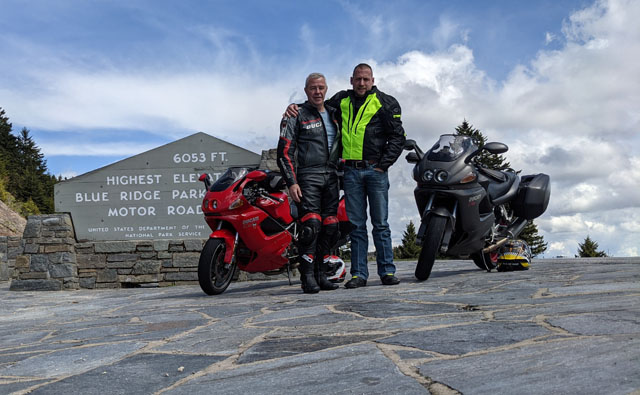 On the BRP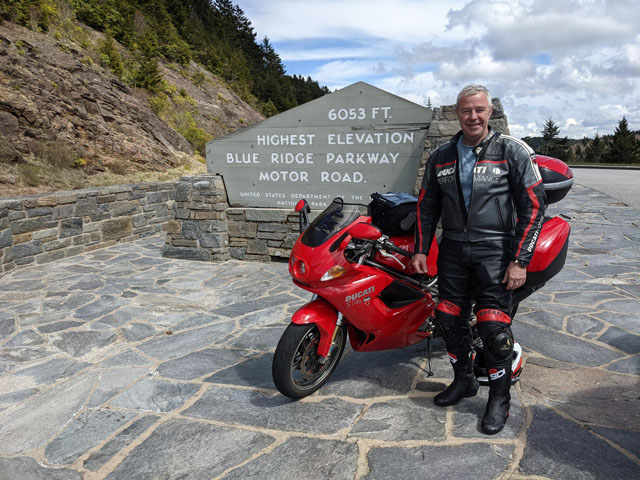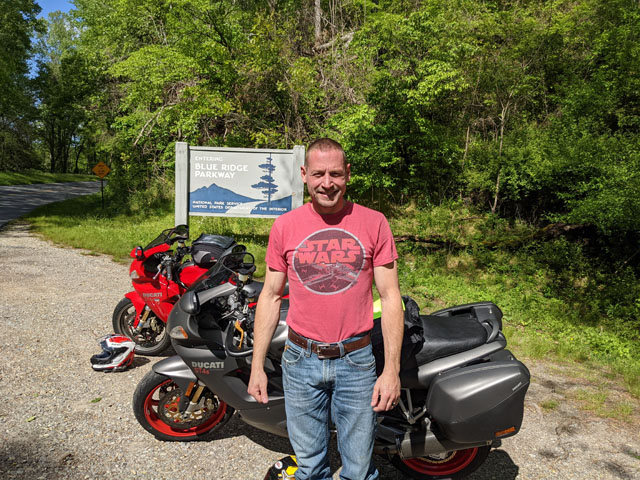 On the BRP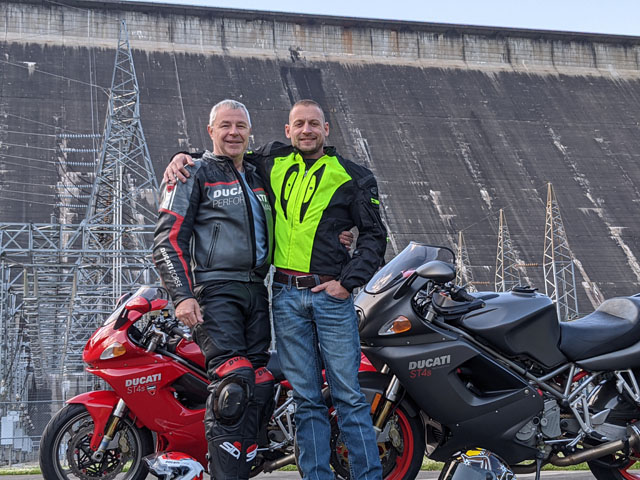 Fontana Dam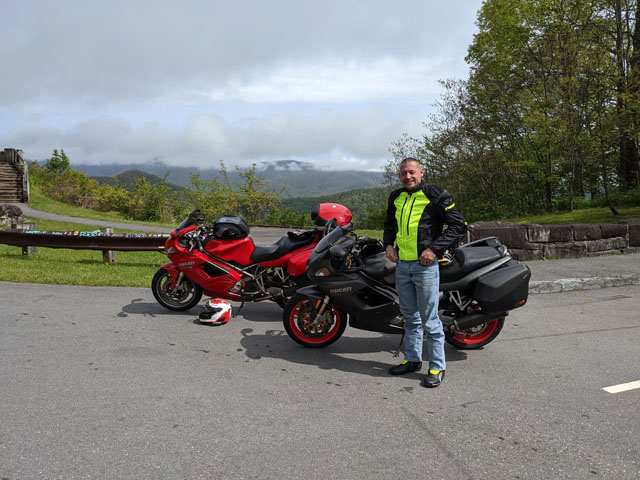 Heading home via Cherohala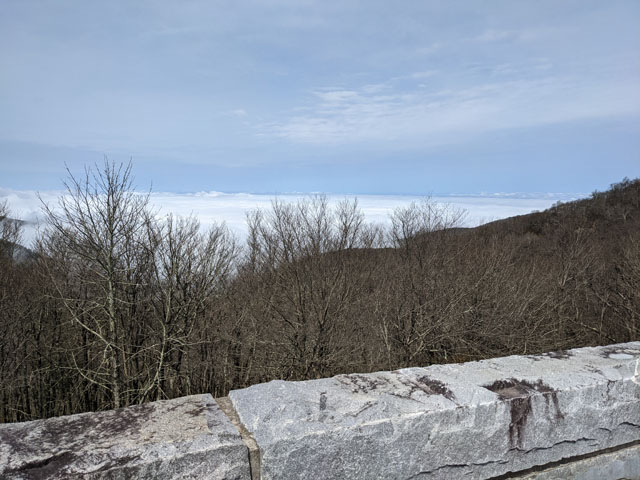 Above the clouds on the Cherohala
31 August - 4 September 2020: 5th Annual ride with my buddy Kelly Hines. This year we pushed out west. Started on the bikes out of Fort Collins, Colorado. The two wheel adventure began from my Marine Buddy's place, Craig "Digger" Scheidegger! Set out on Monday morning, 31st of August and rode through the Rocky Mountain National Park, then turned north through Walden CO., and RON'd in Pinedale Wyoming. From Pinedale on the 1st of September we continued north, and passed through the Shoshone, Tetons, and Yellowstone National Park, departing out the eastern side of Yellowstone, through the canyons along North Fork of the Shoshone River, down into Cody, Wyoming for another RON and nice evening spent at Erma's. Departure from Cody to the east then over the Big Horns, then north across the Crow Reservation to the Little Bighorn Battlefield National Monument. After walking the battlefield some, we hopped over to Billings to our RON. We then turned south, crossed Chief Beartooth Pass and reentered Yellowstone, passing Fort Yellowstone at the North Entrance of the park, then south around the west side of the Grand Loop, exiting Yellowstone at south end and passing Tetons again until arriving at Jackson. RON in Jackson then last day's push through the Shoshone and Wind River Reservation to near Laramie, then south along the foothills into Fort Collins ending our loop of 1800 miles of Colorado, Wyoming, and Montana. It was awesome. The trailer pull to and from Fort Collins CO and Clarksville TN was not as much fun...LOL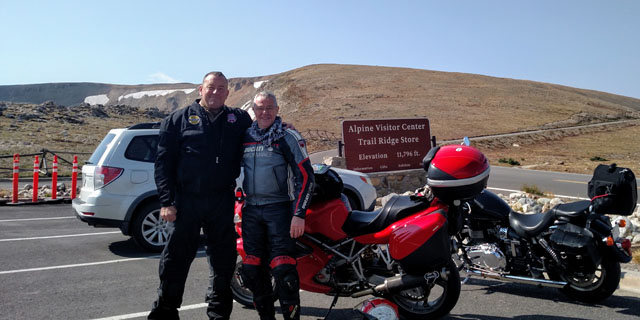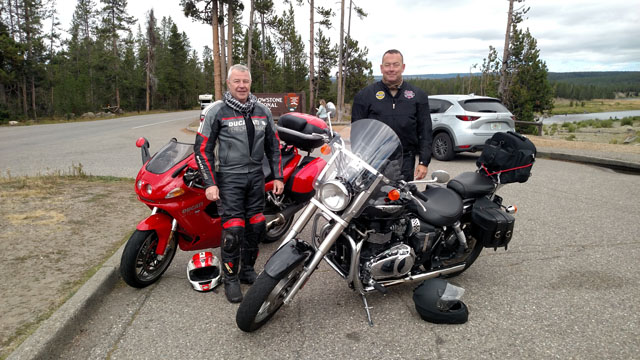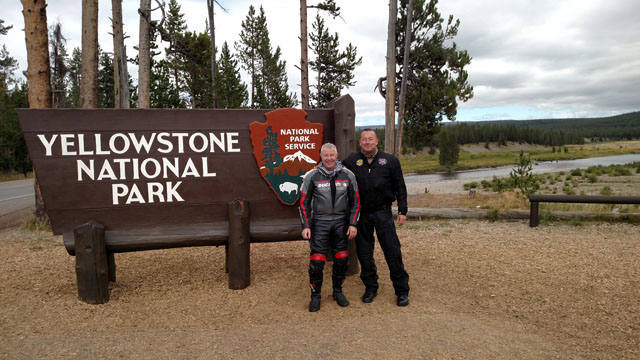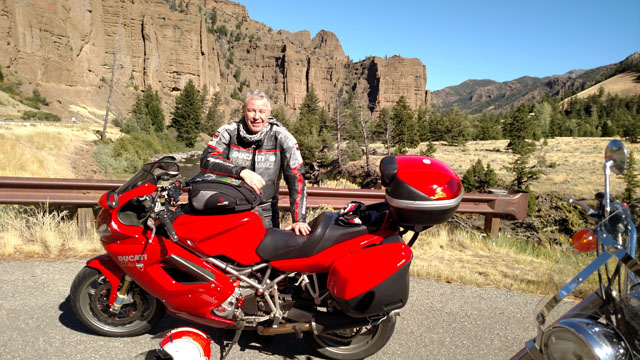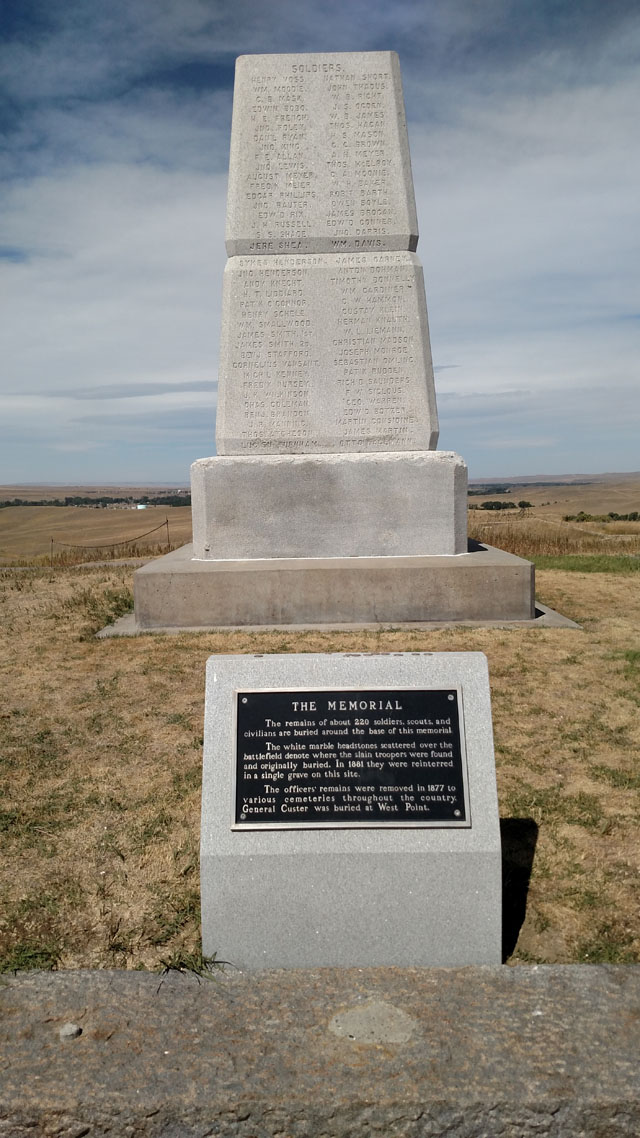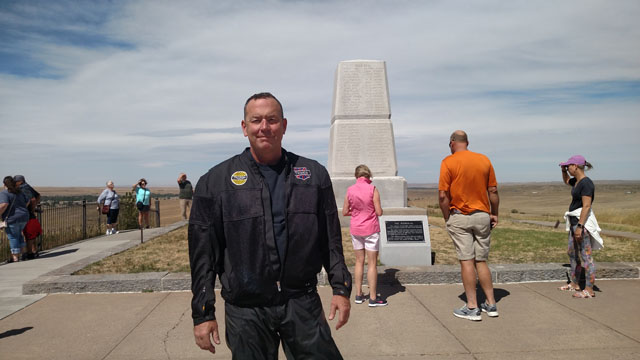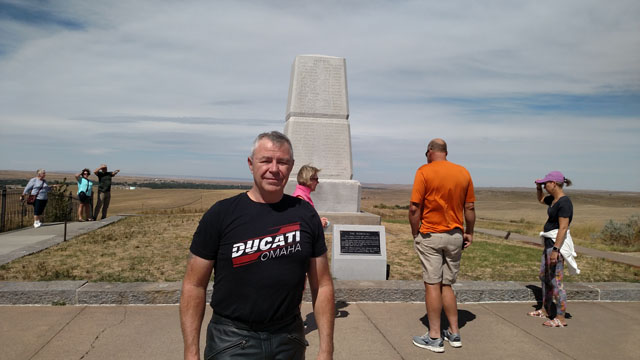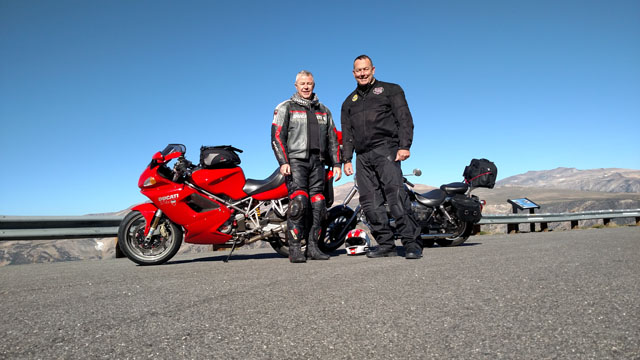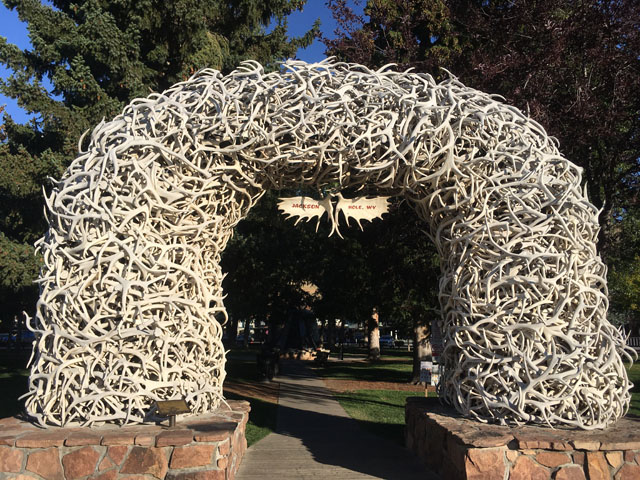 26 April 2020: Installed STM Clutch Slave Cylinder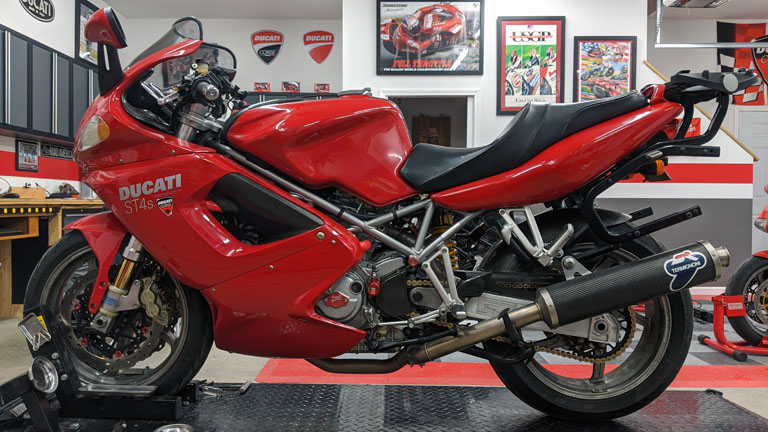 15 February 2020: 30,000 Mile Service begins. Decided to do valves with heads off the ST4s, and so also decided to pull the engine, swing arm, etc. Spent some quality time removing carbon from the piston, heads, and valves, in addition to lapping the valves, and then resetting valve clearances. Completed leak down check with new OEM head gaskets installed. Vertical Cylinder held at just under 4% loss and Horizontal Cylinder held also at just under 4% loss. (96+ psi at 100 psi applied). Pulled water pump cover/housing inspected the rotor, all intact, no corrosion. Water Pump Rotor visual inspection and check for shaft play or free spin, all in excellent condition. Removed all the silicon hoses and checked them over, replaced the thermostat with Ducati OEM and replaced water pump cover / housing with SpeedyMoto unit. Pulled radiator, removed fans (I have a second fan installed on right side), then straightened all bent fins. Soaked radiator exterior in hot soapy water to loosen debris and bugs, thorough rinses, and compressed air to blow out debris from the fins. Visual inspection of radiator interior, no apparent indications of corrosion. Flushed with white vinegar and multiple rinses of distilled water. System refilled with Engine Ice coolant. Ducati Performance Air Filter and K+N crank case vent cleaned and dried, re-lubed with K+N filter oil. CA Cycle Works Exact Fit Belts. New Ducati OEM oil filter, and Shell Advance 10w40 synthetic oil. NGK Iridium Spark Plugs. Nice exterior cleaning of the engine. Replaced three bolts holding upper chain slider on the swing arm. Re-lubed the case bearings for swing arm attachment. Replaced rear wheel bearings (SKF 6005-2RS1/C3) (dims OD 47mm x ID 25mm x thk 12mm) based on mileage. Rear bearings PNs: SKF 6005 2RSJEM (6005-2RS1/C3 is the older designation) or 2) *** 6005.2RSR.C3. Replaced rear sprocket carrier bearings (SKF 6006-2RS1) (dim OD 55mm x ID 30mm x thk 13mm) based on mileage. Removed fuel flange assembly from the fuel tank, replaced submerged hoses with Gates 27093 Fuel Line (30R10), safety wired the hose clamps, spanning short hose at outlet to the clamp and fuel filter hose inlet. Fuel flange, pump, filter assembly photo here: Replaced fuel flange O ring with new Viton O Ring.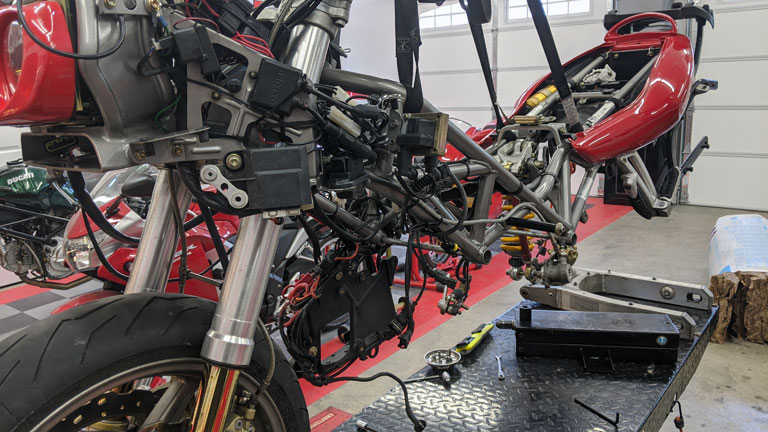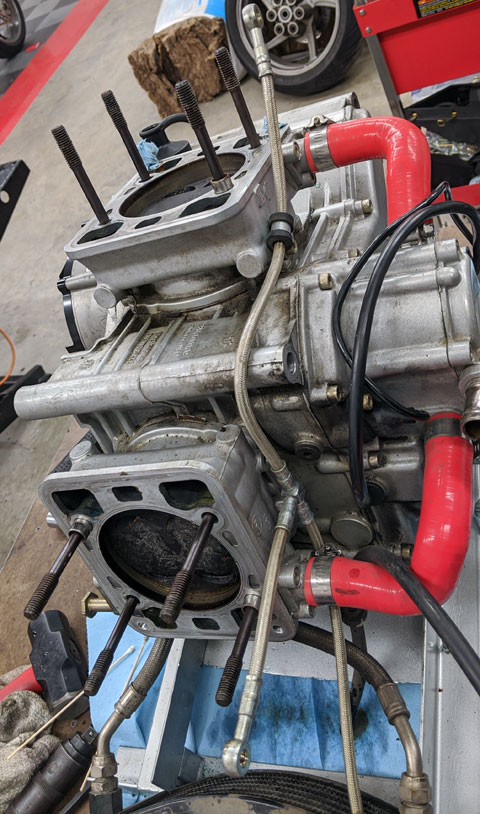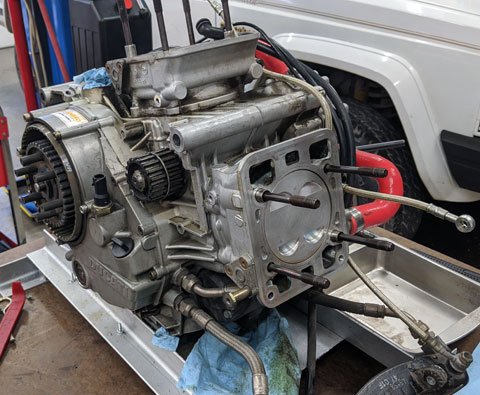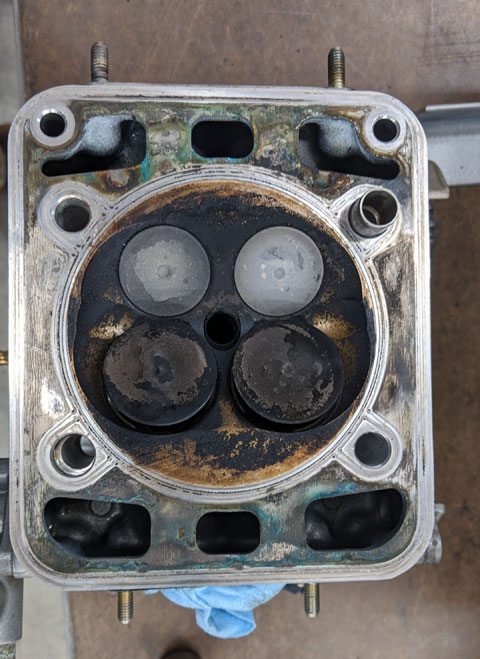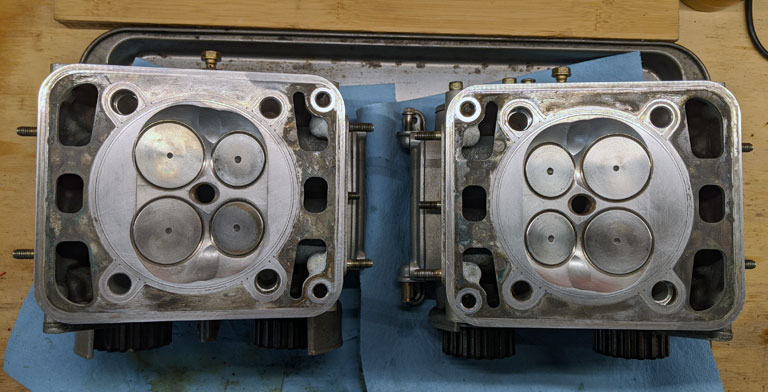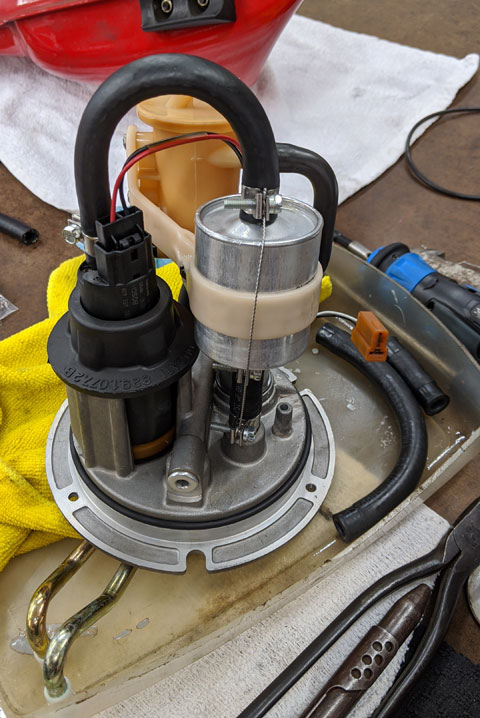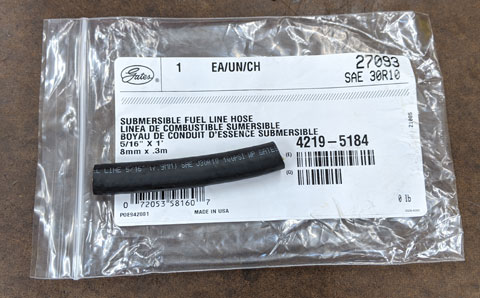 25 December 2019: Merry Christmas! New EVR clutch cover.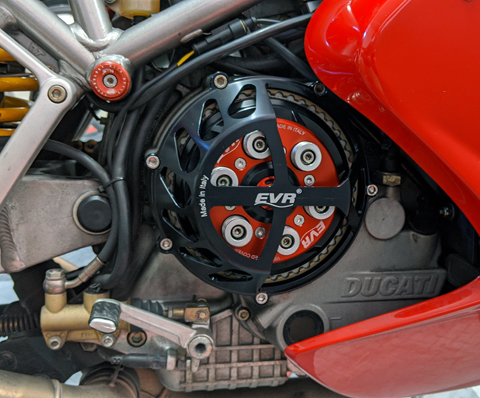 2 November 2019: New EVR Clutch Basket, Clutch Pack, and Pressure Plate installed. I am very please with the feel, performance, and look!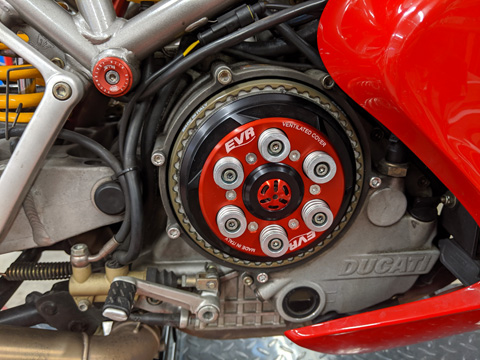 13-18 October 2019: Fourth Annual October ride with Kelly Hines, this time we went to Arkansas. Since he moved to Oklahoma City, Arkansas is close to midway between us, about 6 hour trailer pull to Russellville, AR where we based for the week. Great time riding in the Ozarks, covered the highlight roads by doing about 340 mile loops each day. We also made sure to cover Talimena Drive into Oklahoma and returned. The ST4s did great, brakes felt super, although they are noisy at very low speed as they moan to a stop. My clutch gave its last full measure! After 29,900 miles, it was spent, not a bad lifespan for the clutch pack and basket. I noticed increasing difficulty in downshifts and finding neutral at a stop. Thought that maybe I had introduced air into the the line but, when I got home and inspected the clutch pack, it was obvious. A few of couple of the friction disks had completely lost the friction material and just the aluminum alloy was engaging the steel plates, LOL I can't believe that it didn't start slipping under higher loads. A new EVR 48T basket with plates is on its way! Think I am going to spring for a new pressure plate too (EVR) and maybe an open EVR cover for the local riding on nice days, switching back to my carbon cover if it looks like a long trip with probability of rain.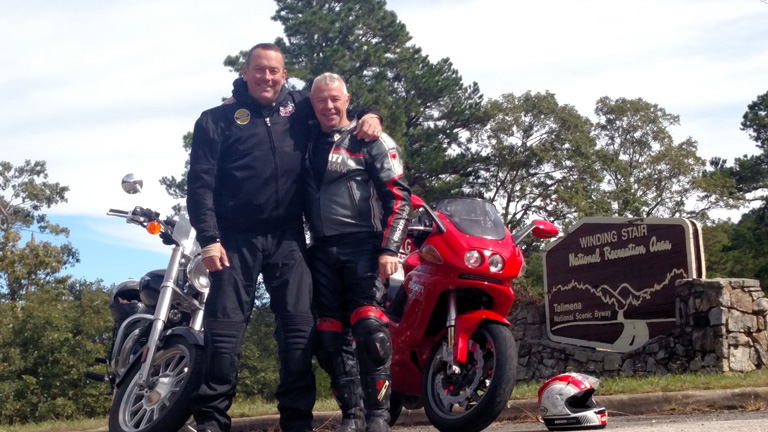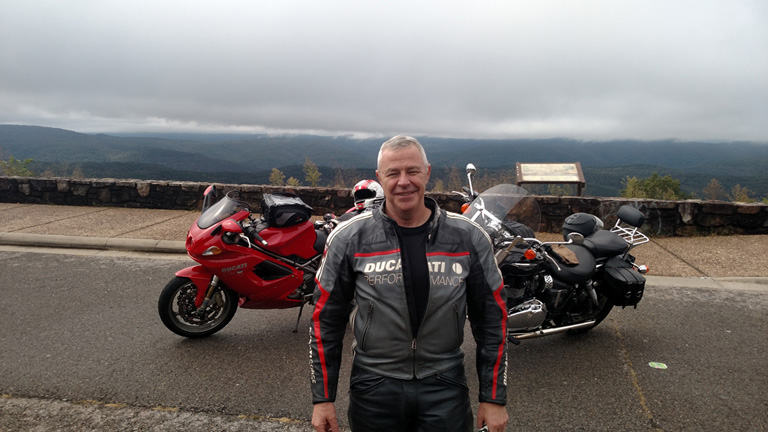 8 September 2019: Front wheel bearings replaced. Test ride completed. Overall, I definitely feel improved braking and less shudder / judder vibration under braking in my ' 02 ST4s (w/ 28,200mi). The replacement of my front bearings was not difficult, key is locating the notch in the spacer and then working the drift around to keep the bearing square on removal. The old bearings seemed fine, as I inspected them again after removal, no axial or radial play, no rough or sticky spots. After installing the All Balls front bearings, I noticed a slight improvement in the reduction of vibration under braking. BTW, I never noticed pulsing at the lever, still don't.

All brake testing is with clutch lever pulled in, and clutch disengaged... (coasting):

1. Under aggressive braking, as I pass 60 MPH, I get a brief bit of vibration, which disappears before the speedometer needle pass through 55 MPH. It is transient and much less pronounced with new wheel bearings.
2. Under light braking, I can pass through the 60 MPH window with no vibration / shudder / judder.
3. After acceleration, and then without braking, just coasting with clutch lever pulled, there is zero vibration at any speed. If I begin braking at 55 MPH or slightly faster, I get no vibration.
4. The vibration now seems associated with approx 60 MPH indicated and firm braking application.

I am going to call it done - I'll give it a 98%...the Brake Tech Axis SS Rotors are a major improvement helping get rid of the shudder / judder that progressively manifest with the OEM Brembo Snow Flake rotors.
15 August 2019: Fitted BrakeTech Axis Cobra Stainless Steel full floating front brake rotors and recommended FERODO ST Front Sintered Brake Pads, to the ST4s expecting to get rid of the braking shudder / judder that crept in over the years. The honing and work on the stock Brembo snowflakes didn't get rid of it, so resorted to new rotors. If this doesn't do it, then I don't know what the problem is!
17-26 Jun 2019: Completed 2210 mile trip on ST4s from Home to Charleston WV, Downingtown PA, Manheim PA, up to Watkins Glen NY for 4 day race weekend then to Youngstown OH, Lexington KY, and back to home! Great time on the trip! For the most part, it was free of rain (only about 4 hours total of wet riding, predominantly in WV).
19 May 2019: Honed front brake rotors to see if I can get rid of the front brake shudder or judder o whatever you call that annoying vibration in the front end of the ST4s under braking. Used a medium, Flex-Hone Tool bought on Amazon by Brush Research -- Flex-Hone For Rotors. Also mounted up a new rear tire for the ST4s, Pirelli Diablo Rosso III. I think that I should have gone back to the Rosso II for the rear tire but I forgot that intention when I ordered it on line. Also put on a new front tire, Pirelli Diablo Rosso III in anticipation of an upcoming trip.
12 Jan 2019: Designed and fabricated an engine stand...will hold most all Ducati engines, and holds the three I am concerned about, the ST4s (996), S2R 800, and 998 engines. Drawings and images are on the Mods page. I used SketchUp for the design and model.
26-27 Dec 2018: Accomplished some winter maintenance tasks: completed install of new Voltage Rectifier Regulator, also installed a voltmeter onto the instrument cluster. Replaced the neutral switch that had failed, it was worn down and no longer making contact inside the gearbox when in neutral. Cleaned up my electrical distribution bus bar. Pulled the fuel tank, replaced the fuel filter and inspected the interior of the tank thoroughly, still looking good!
1-5 October 2018: 3rd Annual ride in East Tennessee, Western North Carolina, and Virginia; super lucky with weather and the BRP was completely open, even though the south/western end was recently tarred and chipped, road was in great shape, as always so was the Cherohala and HWY 129. Had a great time visiting my cousin on the way back, a beautiful log home high on the mountain overlooking the upper Nantahala River.
Kelly and Me on the Blue Ridge Parkway at the Lane Pinnacle pull off, 3890 MSL, 3 October 2018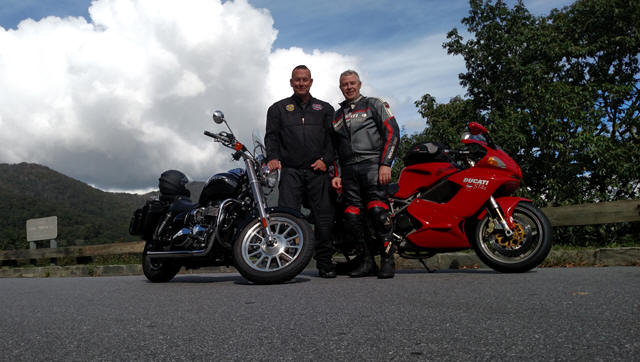 Caney Fork Overlook, 5650 MSL, 2 Oct 2018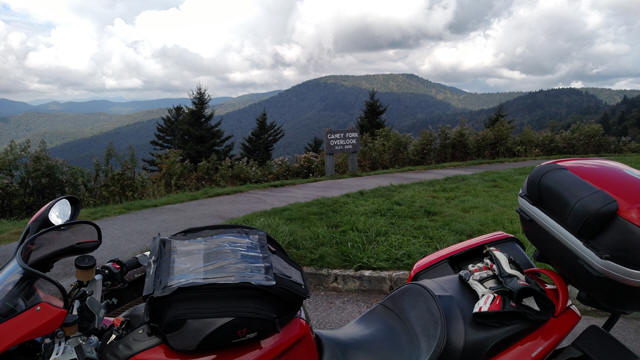 1-3 Sep 2018: Labor Day weekend maintenance to get ready for third annual October trip with Kelly Hines, over to the East TN/West NC/ and VA. Oil change with Shell Advance 15w50 and K+N Oil filter, chain clean, front tire, overall clean up and inspection. She is ready to go!
10 Feb 2018: Another cooling system overhaul completed; system flushed (used Liqui-Moly cooling system flush) and rinsed, refilled with Engine Ice. Temperature sensors replaced, and replaced radiator pressure cap. Note the part number for the pressure cap is incorrectly shown in the Ducati Parts Catalog. Got it straightened out with Ducati North America by working with Ducati, Omaha...they are super. I am always very happy to deal with Ducati Omaha. Checked the water pump impeller, all looking good. Refitted water pump housing. Straightened radiator cooling fins and fitted my custom installed right side fan with Muzzy metal fan blades.
2 Dec 2017: Doing some ST4s clean up and while cleaning the chain, noticed my front sprocket retention plate and front sprocket was a little sloppy...sure enough the dreaded wear of the retention plate and the inboard side of the channel on the output shaft. Figured it out, chain alignment was indeed off. I had been overconfident in aligning using my Desmo Times plates and the swing arm stamped marks. Put my Motion Pro chain alignment tool on and uh oh, it was definitely out of alignment!!! I was using what I thought were symmetrical marks on the swing arm, despite numerous forum comments warning of the error. Photos are on the Maintenance and Issues page. I had a spacer made to fit behind the front sprocket (read US Desmo "Desmo Leanings, Spring 2011 issue"). Found the article on Ducati.ms Sport Tour forum, where others have had this problem. Photos of the spacer also on Maintenance and Issues page. New chain guides and of course new sprocket retention plate fitted, all better.
October 4th, 2017: Asheville, NC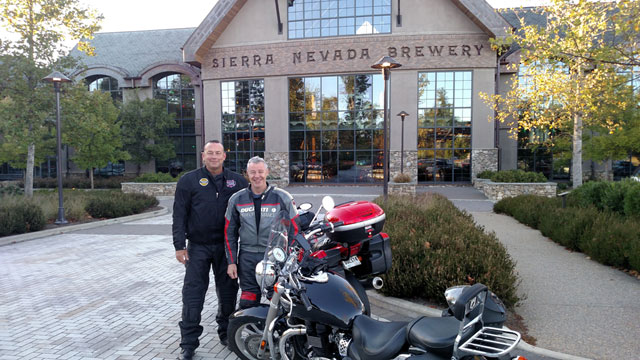 1-6 October 2017: Second annual Autumn ride of the Blue Ridge Parkway! From Chattanooga, to Robbinsville, NC then through HWY 129 (Dragon) North and South over to Cherokee and onto BRP all the way to North end (start point), back down BRP to Cherokee again, and back to Robbinsville and then on to Chattanooga TN, to reload and slab it home. Over 1500 miles covered and a great time! New back tire along the way, Thank you Wheeler's Performance in Robbinsville, NC... great job, fast and very reasonable price...awesome! Some fairly warm coolant temps at idle when weather was warm and but with the cold mornings ST4s was cranking a little slower that I expected; otherwise starts have been strong since last year's battery replacement. Fantastic trip!!!
January 2017: Winter time and should be doing some maintenance but work and helping wife recover are keeping me out of the garage. Also, spent some time getting my server upgraded and now contemplating the forlorn Ducatiwiki.net . The host appears dead, think it was a German hosted site. Not much info but some web back up pages via way back machine (web.archive.org) but you can only save the top level of the wiki and then have to manually execute the links and attempt to save those pages...time consuming approach. Also, sadly the ST FAQs site of Perry Rosenboom has been down for a long time now and I have no idea how to reach him or the current copyright holder. Would love to freshen that document up. Yahoo Groups ST List is still running as is the Duacti.ms forum but participation seems down as these bikes age and with them the Ducati ST genera. If you hit this site and are interested in seeing the wiki resurrected, let me know via grimah1w at hotmail dot com
Want to keep these sources of information alive!
October 2016: Lots to catch up on, ahead of the inaugural Autumn Moto trip with my Army buddy Kelly Hines, 1-4 October (Chattanooga to Robbinsville, NC, to Boone NC to Renick WV, to Chattanooga:
1. 20,500 miles / 27 September 2016 service : New front and rear tires (Pirelli Diablo Rosso II rear and III front)
2. New Yuasa Battery (cascaded two year old battery to 998s FE)
3. Oil and Filter. K+N 153 filter and Mobile1 20w50 V-twin (I don't think I will use that again, like the Mobile1 4T racing better)
4. Added Right Side cooling fan, relocated manual fan control switch
5. Added aux electrical buss, switched power for a 30A relay controlling the buss.
6. Belts replaced -- Exact Fit -- tension set at 100Hz
Great trip with Kelly Hines covered over 1000 miles, perfect weather, lots of fun!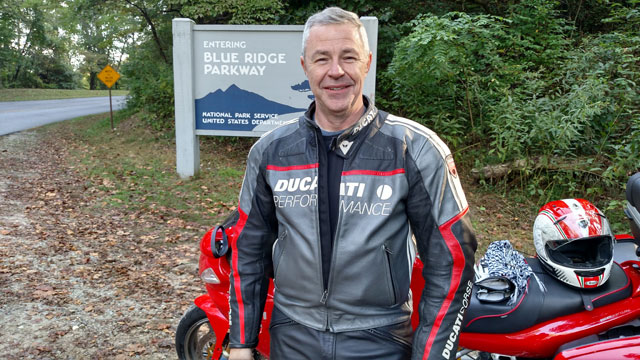 February 2015: Tapered roller bearings, purchased the bearings from DesmoTimes but, ordered Ducati OEM seals and an extra thrust washer after reading all the traffic and advice about the seals that come with the AllBalls tapered roller Bearings. The seals that come with the kit just do not look right an apparently if not installed backwards (up lip facing down) then the seal will tear and fail. I am not convinced that they wont fail if installed in that manner either. Full report and documentation will be posted on the mods page soon!
February 2015: Installed DD headlight, big improvement although I still do minimize night time riding.
In late January 2015, I sent my rear Ohlins shock and the Showa forks off to Cogent Dynamics for rebuild/service, heavier duty Ohlins rear spring, and for the forks, the Ohlins cartridge and stiffer Race Tech springs. Receipt and list of materials, here. Looking forward to mounting them up and getting them dialed in. For now, it is cold and winter maintenance tasks continue!
July 2013: FYI entry=> I rate the service at Bloodworth Motorcycles BMW/Ducati of Nashville, TN as poor. Have yet to have a positive experience with them and my Son's most recent experience (end of July 2013) was again very poor. It is first and foremost a BMW dealership. Service department is rock bottom for Ducatisti. It has spurred me to work harder on my competency as a Ducati maintenance tech without formal schooling, for that I guess I can be grateful. ;-)
8-13 May 2013: Big ride, ECM at Fontana Dam, NC then to V.I.R. near Danville, VA, then back through Ashville, NC to home. Beautiful weekend, great weather, cool in the mountains, just the way it should be!
29 April 2013: Tires mounted front and rear, Pirelli Diablo Rosso II front 120/70ZR-17 and Pirelli Diablo Rosso II rear 180/55ZR-17. Motorcycle Superstore (117.99 / 147.99) respectively, free shipping! :-) Full maintenance DIY checklist and task list here. Added Ducati Performance (Givi V46) Top Box to the ST4s, very lucky to have found one in the box with full Ducati Performance (by Givi) hardware mounting from a gentleman in Southern California. UPS delivered and install went smoothly. Integrates with the the stock Nonfango panniers brackets perfectly.
October 2012: Added SW Motech Tank Bag along with electronic power ring to the ST4s (as well as for the 998). SW Motech is a German company and I was fortunate to have my friend in Germany purchase the items for me and send to the USA. ThrottleMeister is US distributor but their markup is pretty significant. The model I purchased is no longer available (as of 2017) but similar capabilities are still offered. I really like the bag a lot and having 12V supplied to it is very nice for extended travel, water proofing is great too. I did make a minor modification to the bag, adding some aircraft aluminum to the interior base to stiffen the bottom of the bag and keep it well clear of the tank when loaded.
17/18 August 2012:Have been dissatisfied with running temperatures of the ST4s so I have replaced most of the cooling system components: new hoses (red silicone from Desmo Times), new Thermostat, Ducati OEM, new Engine Ice after flushing and rinsing with vinegar and two distilled water rinses. Inspected the water pump impeller, visual inspection was normal, no corrosion, no damage to blades, and not sure what else to look for. System refilled and burped etc. Fitted the Ducati Designs Headlight (finally) from Paul Geller. Great kit. easy to accomplish. Used two washers that were not supplied to raise the DD headlight inside the Ducati headlight housing to center it in height when the nose cowling/fairing was installed. ~1/16 thick washer made the gap even all the way around. Works fine even with the headlight Gizmo installed, so now I have a headlight that actually works and it comes on after I shift from neutral to gear so no drain at engine start. Also installed new sprockets and chain combo. 525 D.i.D. with 15T front sprocket and and 42T rear. Got the D.i.D. chain combo tool with it...anyone need a 525 chain done??? Lastly, replaced the stock ride height adjuster with an aftermarket (non-seized) link, looks nice and rear ride height is now set so that the rear wheel is ~10mm off the ground when the bike is on center stand. Full maintenance DIY checklist and task list here.
7/8 February 2012: Valve adjustment, belt change, coolant change, spark plug change, oil and filter change. All completed with no issues. Valve clearances were checked and were well within specifications. Belts replaced and set to 110Hz. Full maintenance DIY checklist and task list here.
19 November 2011: Returned from overseas to a gift from the wife, nice DP Carbon Fiber inserts to panel...have been wanting then for years even more since they pretty much went unavailable...she found a gent in Australia who had them in stock and now they are mine an installed!!! Photos soon! Also received my shipment from LT aka Doc Snyder at Desmo Times!!! My winter maintenance program will make for some fun hours tearing the ST4s down and doing Belts and valves!
10 November 2010: ST4s has been a treat to be on lately here in middle Tennessee. The Scala G4 communications system has been a real nice addition! My wife really enjoys the ability to talk a little on the ride, pointing out some of the wonderful sights we see on our treks.
2 October 2010: Last day in Tampa! Moving back to TN. ST4s is packed up, blocked, braced and locked in a Baxley wheel chock stand.
17 April 2010: Sorry for the absence and lack of updates! Purchased a Rizoma timing belt cover for the ST4s. Would like to see more of it than is visible with fairing installed but what I do see I like! Photos of it in Modifications. That ride in September alluded to in paragraph below was awesome. Would rather have been on ST4s for some of it though! The 998 got a bit fatiguing after second trip through Hwy 129, 1st and second and the front tire had given its best work on the Cherohala Skyway. Now its profile looks like a triangle. Anyway, back to the St4s!!! Tampa starting to heat up. I have noticed that the thermostat housing gives up a drop or two of coolant but is not coming from the hose connections. Have triple checked them, tightened, reset, retightened and still after a warm ride, the same result...almost like it weeping through a crack??? not visible to naked eye. Will update once I get that sorted. For now, after a ride, I park and next day see a small contribution of coolant to the floor of my garage, about the size of a dime.
13 Sep 2009: still hot as ever here in Tampastan. Rainy season still in effect, it will probably be a couple more weeks until it is reasonably temperate and dry enough to take the ST4s out and stretch it out some. Planning to spend last half of last week of September in Knoxville, TN area with the 998s FE and ride the hills with Ben and Steve, then catch UT football on that Saturday. Hoping for good weather!
24 Jan 2009: fan modifications applied to my St4s! Purchased LT Snyder's six bladed aluminum fan and placed a single pole single position switch into position between 12vDC lead at fuse panel and the fan's positive lead at the connector. See Mod Page. Also, learned that GIZMO folks' website is offline. Not sure how to reach them for those wanting the Headlight Gizmo shown on my Mod page. Sorry.
2 Nov 2008: temperatures have mellowed here in Tampa and now the humidity/high temp factor is gone, I can get the ST4s out and stretch the legs some...dang roads are straight as arrows and filled with cage drivers. Have found my way over to Euro Cycles of Tampa, nice shop, good folks.
Sep 2008: Moved to Tampa FL. Brought ST4s with me but left the 998s behind in TN to stay at the house. Doing split base operations for now. It is way to hot here in Tampastan to do much riding this month, looking forward to fall.
May 2008: Front tire replaced with a Diablo Corse III. Also scored a Sargeant Seat on a very good deal from Alain at Corse Motorsports who had a customer who wanted to sell his (still in wrapper from Sargeant). Unfortunately the owner who had planned to put it on his ST3, had a motorcycle mishap and was selling his ST3 and all bits. Fortunately he is OK and recovering well.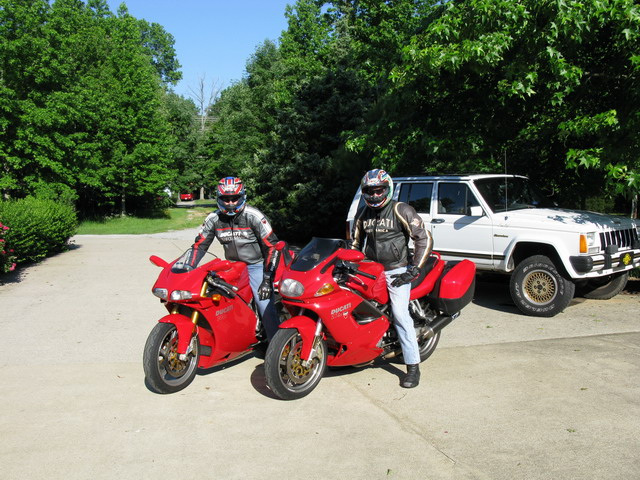 Son Steve and I heading out for a ride -- taken June 2008

April 2008: another trip to the Dragon, HWY 129 and point beyond, including the Cherohala Skyway, it was a beautiful ride and now it is time for a new front tire :)
28 Oct 2007: - Wx cooler, ST4s is all reassembled. I pulled all the body work before sending it in for the 12K service, saves time and money :) After getting it back from Alain's I did a thorough cleaning of the body work that had been hanging in my garage and put her all back together; looks great!
27 Sep 2007: 12K service completed :) Once again, Alain Ledgerwood mechanic and owner of Corse Motorsports in Nashville did a great job. It was also very reasonably priced. Great job Alain and Corse Motorsports!
22 April 2007: - Plenty of developments, My 998S FE is freshly serviced (6000 miles) and has new Michelins front and rear; total price ~$1300. The ST4s is coming up on its 12,000 mile service, these get pretty expensive, so I am in a bit of a delay. Steve has undertaken a major project and successfully converted his Matrix 620ie to a Matrix 800 S2R. It is pretty awesome. Now he has the look he wanted and the power he had been searching for, plus, it is a one of a kind. I have done a bit of re-organization of this web site and added web space dedicated to Steve's Matrix S2R 800 and the 998S FE.
19 November 2006: - LCD Module partial failure and repair. I disassembled the LCD display module and repaired it today. Found water inside and corrosion of the circuit card. Dried the interior of the housing, removed the corrosion, an resealed the unit... it is working perfectly again!!! WOOOT! See photos and description of the repair in the Maintenance and Issues section.
2 November 2006: - For my birthday, I notice that my LCD display is now only functioning partially, hurray!
1 October 2006: - Purchased a 2004 998s Final Edition. It sure is pretty.
22 September 2006: - Back to East Tennessee the Dragon (hwy 129) and Cherohala skyway. Weather was a bit uncooperative. A bit damp in a few corners on Hwy 129 but it did not spoil the fun. Different story on the Cherohala when we got to 4500' MSL we punched in (aka clouds obscured vision if we had been flying an aircraft it would have been instrument meteorological conditions (IMC)). By the time we got to 5000' MSL it started to rain in addition to being cold and very windy. We donned the rain gear and my son on his Monster and I on my ST4s crept along until the descent an then in the valley we rode home in the rain. Couple of photos are on the photo page taken while we were still in nice weather. The next day it rained like crazy although we still went and watched University of Tennessee (my older son Ben is a student there) defeat Marshall. It was a fun trip!
10 June 2006: - New Pirelli Diablo Corse front tire. Saw Alain at Corse Motorsports again, this time for a front tire and time to pick up oil and a filter. 9000 miles changing oil and filter. Using Mobil 1® MX4T 10W-40.
14 May 2006: - My son purchased a 2004 Ducati Monster 620i.e. "Matrix Edition" from a Grad Student at U of Illinois. Great looking machine!
6 May 2006: - Added this block after returning from East Tennessee and riding some of the magnificent roads there. My son and I had a great time! The highways of Tennessee have gained notoriety for being maintained in superior condition, all the roads we traveled in TN were great. Not quite to the standard of German roads but in most cases much better than say Northern California. Nice black top, great terrain, so many corners it felt like we were riding in loops at times. We rode the Cherohala Skyway and on to US Highway 129 through Deal's Gap. Photos from the trip are on the photo page.
30 Apr 2006: - New back tire, sticking with the Diablo; preparing for the trip later this coming week. Corse Motorsports, did me right.
20 May 2004: - 6000 mile service also replaced steering stem bearings and seals (Ducati Warranty) service total $534.
May 2002: - Purchased 2002 Ducati ST4s from Sonny Collier, of Collier Ducati, in Nashville, TN. (Sonny eventually sold his Ducati dealership and after passing through a couple of hands it wound up with Bloodworth BMW and Ducati in Nashville.) I rate Bloodworth service as meh.